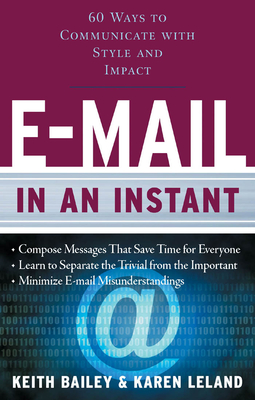 E-mail in an Instant (Paperback)
60 Ways to Communicate with Style and Impact
Career Press, 9781601630179, 160pp.
Publication Date: February 1, 2009
* Individual store prices may vary.
or
Not Currently Available for Direct Purchase
Description
The In An Instant series is a new brand of user-friendly, engaging, and practical reference guides on core business topics, which capitalizes on the authors' extensive experience and knowledge, as well as interviews they have conducted with leading business experts. Written in an upbeat and engaging style, the series presents 60 tips and techniques with anecdotes, examples, and exercises that the reader can immediately apply to make their work life more efficient, effective, and satisfying.
Surveys show that people in corporations receive an average of 175 messages per day. Topping the list is e-mail, surpassing voice mail, faxes, and telephone messages as the most frequent type of message received.While e-mail is the biggest communication tool for business use, its remote nature--which eliminates tone of voice and body language--presents a huge potential for misunderstanding and misinterpretation. Many people find themselves dealing with dozens of e-mails every day whose impact has been lost in cyberspace and, as a result, frequently miss the mark.
E-mail In An Instant helps readers to gain mastery over their electronic mail box and be more effective at getting their messages across with style and impact as well as managing and responding to the messages they receive. The book shows everyone from corporate executives to stay-at-home moms how to improve their e-mail efficiency by:
Accelerating your workday by knowing what to send and what not to
Assessing your e-mail writing style
Adopting time management for your mailbox
Learning to separate the trivial from the important
Learning how to say no, e-mail style
Writing business e-mails for other cultures
Advertisement