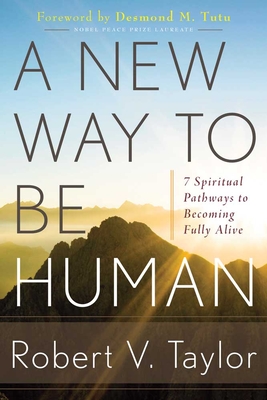 A New Way to Be Human (Paperback)
7 Spiritual Pathways to Becoming Fully Alive
New Page Books, 9781601632159, 224pp.
Publication Date: April 22, 2012
* Individual store prices may vary.
Description
A New Way to Be Human is an invaluable guide for individuals intent on transforming their lives, revolutionizing our society, and refining our world. It is for those who seek:


An impactful life of meaning and purpose, love and hope, compassion and delight

The courage to cross the boundaries of religion and move beyond the demonizing debates about gender equality and human sexuality

The spiritual wisdom discovered in the many forms and disguises of the Holy

By identifying 7 pivotal, universally recognizable life occurrences as spiritual pathways, A New Way to Be Human will immediately connect you to actionable personal spiritual practices.

From his miraculous physical healing as a teenager in Cape Town, to fighting apartheid alongside Desmond Tutu, to his eventual appointment as one of the United State's highest ranking, openly gay Episcopal priests, Robert's life shows anyone how to integrate personal spirituality with a legacy of compassionate purpose in the world--and invites others to do the same.

Go to www.robertvtaylor.com/publications/book-club
About the Author

Robert V. Taylor is a nationally recognized leader, author, and sought after speaker who invests his life in helping individuals and organizations to realize their full human potential and impact in the world. Born and raised in South Africa, Robert saw firsthand the difference that could be made when oppressed people are given the freedom to discover their voices, trust their imaginations, and find the courage to be who they are. Robert continues to explore integrating personal spirituality and values-driven strategies with the question of how we each leave a footprint of compassion in the world--both at home and in the corporate marketplace. He lives in Seattle, Washington.

Praise For A New Way to Be Human: 7 Spiritual Pathways to Becoming Fully Alive…
"Throughout the years I've admired Robert's compassionate ministry of God's love and hope and the integrity of his life and leadership over many decades. It is a joy to see that authenticity revealed in these pages... It is a humdinger of a book!"
--Desmond M. Tutu, Nobel Peace Laureate

"Robert Taylor shares his remarkable life story in his book, A New Way to Be Human. He eloquently illustrates that when we have the courage to open our hearts we are capable of living an authentic life of gratitude."
--Deepak Chopra, best-selling author of Spiritual Solutions

"A New Way to Be Human will become well thumbed as you return to it time and time again to be reminded of what is essential to your journey: that God longs for us to be people of love and compassion."
--Desmond M. Tutu, Nobel Peace Laureate

"Taylor shares his story and the lessons he has learned and makes this wisdom easy to understand through practical lessons and experiences. He is a wounded healer and in love's service only the wounded healer can serve."
--Bernie Siegel, MD, author of A Book of Miracles and Love, Medicine & Miracles

"Robert's book is a refreshing, honest and straightforward approach to capturing that sense of wholeness and humanness. This book gives tangible ways to start looking at your own life story for clues about who you truly are."
--Helene Gayle, CEO and President of CARE

"Stop whatever you're doing, and read A New Way to Be Human immediately. This book gave me new lenses for viewing the world, and instead of feeling pessimistic about my times, I now see my culture and fellow inhabitants in all of their beautiful, promising potential."
--Chely Wright, Country & Western singer and author of Like Me

"If you are searching to create a holistic spiritual framework of love, compassion, justice and mercy, this book will become a wondrous companion."
--Nora Gallagher, author of Practicing Resurrection and Things Seen and Unseen: a Year Lived in Faith

"Reading [Robert's] story, and particularly the life challenges he was able to overcome, you will become inspired to move beyond your own difficulties into a life of deeper purpose."
--Jonathan Klein, CEO of Getty Images


or
Not Currently Available for Direct Purchase