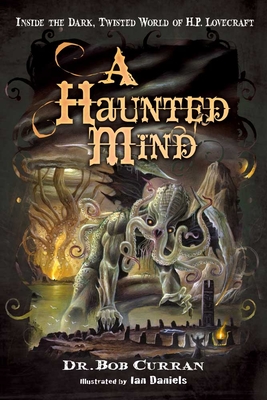 A Haunted Mind (Paperback)
Inside the Dark, Twisted World of H.P. Lovecraft
New Page Books, 9781601632197, 352pp.
Publication Date: August 22, 2012
* Individual store prices may vary.
Description
Arguably no American writer has had more of an impact on the modern horror scene than Howard Phillips Lovecraft, the man who created the Cthulhu Mythos, with its strange gods, eerie places, and forbidden books. But what sort of a man was Lovecraft, how did he create such a terrible universe, and where did his inspiration come from? Was it, as some have argued, based on esoteric knowledge forgotten or even denied to all sane people?

In A Haunted Mind, Dr. Bob Curran explores what motivated Lovecraft--his personal life is just as strange as some of his creations--and drove him to create his terrible cosmos. Using both folklore and history, Dr Curran investigates a wide variety of Lovecraftian mysteries.

A word of warning: you may never look at Lovecraft--or the world--in exactly the same way again!
About the Author

Dr. Bob Curran is a native of Northern Ireland, born and raised in the Mourne Mountains area of County Down, a region steeped in folklore and legend. Throughout a varied life, he has worked in many fields--as a gravedigger, professional musician, journalist, and civil servant. He is now a history teacher and well known throughout Ireland and beyond as a writer and broadcaster. He has written extensively, in English and several other languages, on various aspects of history and folklore and acted as advisor to the Cultural Committee of the Northern Ireland Legislative Assembly. He currently lives in Coleraine, County Derry, with his wife and family.


Ian Daniels works professionally as a painter and illustrator. His work includes themes of earth & spirit, nature, dreaming, memory, ghosts, and ancient mythology. His previous illustration projects range from children's fairytales to fantasy fiction & gothic romance including book covers for Edgar Allen Poe, Marion Zimmer Bradley, Orson Scott Card, and Poul Anderson. He has also illustrated two collections of fairytales, Classic Celtic Fairytales and Tales of the Celtic Otherworld which feature many of his visionary paintings. Ian lives in Kent, England.

Praise For A Haunted Mind: Inside the Dark, Twisted World of H.P. Lovecraft…
"Just sit back and relax as Dr. Bob Curran takes you to places that only your mind can create with his words and stories. He has captivated the radio listening audience as he will captivate the reader... Dr. Curran will delight the imagination." --Tom Danheiser, producer, Coast To Coast AM
— Tom Danheiser
or
Not Currently Available for Direct Purchase