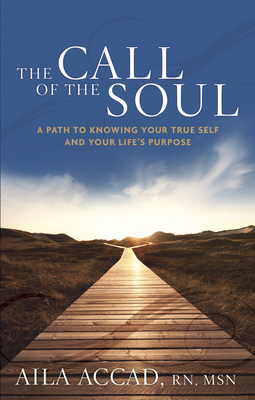 The Call of the Soul (Paperback)
A Path to Knowing Your True Self and Your Life's Purpose
New Page Books, 9781601632746, 256pp.
Publication Date: June 19, 2013
* Individual store prices may vary.
Description
The Call of the Soul presents a new perspective on the quest to find your authentic self. When that quest is successful, you know who you truly are and what your life's purpose is. This book provides a new way to approach the journey, with a map and effective tools to ease the struggle and assure success.

The Call of the Soul shows you how renegotiate the relationship between the ego and the soul so you can step fully into your purpose. Step by step, you will discover inner passion, purpose, peace, prosperity, and love--all by learning how to hear the call of your soul.


With a down-to-earth writing style combined with true-life examples, this book offers accessible wisdom to achieve the self-knowledge you are seeking.

The Call of the Soul will guide you to:

Compassion and appreciation for all of you, including the part that resists change

A quick way to release emotions and beliefs that stop you from expressing your true self and purpose

A new feeling of ease and confidence in yourself and your purpose

Your authentic self
About the Author

Aila Accad, RN, MSN, is an award-winning international speaker, best-selling author, and certified life coach who began her quest for the purpose of life at age nine. She became an energy healer, reiki master, and stress expert in the process of exploring numerous wisdom paths. As president and founder of LifeQuest International, LLC, she shares uniquely simple experiences to help clients hear and heed their soul's calling. Thousands have achieved self-knowledge and freedom from stress through her groundbreaking process, Breaking the Perfection Myth, and best-selling book, 34 Instant Stress-Busters. As a stress expert and healthcare futurist, she is a popular keynote speaker and radio and television guest. Aila lives in the beautiful hills of Charleston, West Virginia.

Praise For The Call of the Soul: A Path to Knowing Your True Self and Your Life's Purpose…
"If you have ever asked of your life, 'Is this all there is?,' then The Call of the Soul should be at the top of your reading list. A lack of meaning, direction and purpose in life not only makes us unhappy but unhealthy as well. The best way to fill this emptiness is through the deep wisdom to which Aila Accad leads us in this luminous book."
--Larry Dossey, MD, author of Healing Words and One Mind

"The Call of the Soul is a refreshingly accessible guide for the reader who longs to heed the call to self-expansion. In contrast to advice that attempts to extinguish the ego, Accad shows how the ego's protective functions can be used in service of--rather than in opposition to--the soul's purpose. She does this in the gentle manner of a skilled teacher, animating her own interactions with these inner characters and showing us that we, too, can navigate the crooked path of self-transformation."
--Laurie Helgoe, PhD, author of Introvert Power


or
Not Currently Available for Direct Purchase