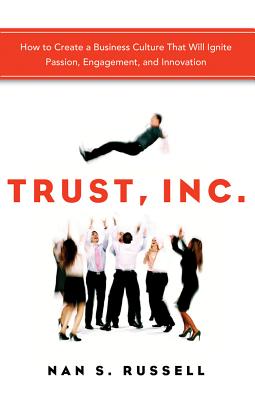 Trust, Inc.: How to Create a Business Culture That Will Ignite Passion, Engagement, and Innovation (Paperback)
How to Create a Business Culture That Will Ignite Passion, Engagement, and Innovation
Career Press, 9781601632852, 252pp.
Publication Date: November 25, 2013
* Individual store prices may vary.
or
Not Currently Available for Direct Purchase
Description
""Trust, Inc." really challenged me to reflect on my own perceptions of trust, understand the needs of others, create a framework to build stronger genuine relationships (both personally and professionally), and be a more effective leader "
--Jeffrey Buell, vice president, customer experience, Comcast
"Nan gets to the foundational core of why employees disengage in today's workforce. She's outlined a simple and powerful approach for employers on how to reengage their most valuable asset. This is a must read for all employers who want to impact their bottom line."
--Mora McCarthy, business resource consultant, Montana Dept. of Labor & Industry, Workforce Services Division
"I would trust Nan Russell to drive 'My Bus, ' with myself and all of my team with me, to anywhere in the world."
--Diane Hennessy, store manager, Macy's Leadership award winner
"Nan has a way of giving real-life, practical examples anyone can relate to, and helps you come to your own insights by seeing an experience through her reflections."
--Eleanor Gathany, GPHR, senior regional HR leader, Amazon
This is a difficult time to be a leader. The majority of employees are disengaged, their discretionary efforts tamed, passions for work fleeting, and ideas tethered.
None of this needs to stop you. You can create a workplace where engagement, passion, and great work thrives.
If you're someone's boss, whatever your level or role, you can use these trust essentials to:
Create your own Trust, Inc.--a thriving pocket where engagement and results flourish
Be a trusted leader people work with, for, and around--with passion and enthusiasm
Enhance your leadership future using "what-does-it-look-like?" approaches and "how-does-it-happen?" tips, exercises, and insights
Don't let what you can't do affect what you can. "Trust, Inc." gives you real-world ways to create, nurture, and sustain authentic trust in your work group.
Advertisement