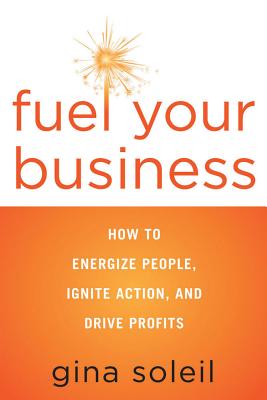 Fuel Your Business
How to Energize People, Ignite Action, and Drive Profits
Paperback

* Individual store prices may vary.
Description
"Fuel Your Business is the next generation resource for leaders (current and future). Through the forward thinking of Soleil, this book demonstrates the need for the intersection of human energy, overall well-being, and value-based leadership. Going into the next decade, we need new ways of thinking and leading--Soleil's Eight Principles of Business can get us there."
--Jean Nitchals, partner, Niche Solutions, LLC

"Fuel Your Business is brilliant in the way few books are, in originality and impact. If Adam Smith is credited with being the father of economics, he just met his match in Soleil. These ideas will revolutionize how we look at business, economics, public policy and so much more. This lesson of humanity rings of possibility, hope, and a new kind of prosperity. Each chapter lifts a veil with simple truths. It has the potential to fuel your business…and it can do so much more if you let it."
--Jennifer Hovelsrud, corporate communications, UnitedHealth Group

Gina Soleil takes you through a thought-provoking journey on how to transform your business into a haven of productivity. Using the science of energy, Gina gives you a step-by-step roadmap for building a business that's fueled to win in today's market. Soleil reveals the intersection between human energy and business, exposing the truth about how to attract what you want--energy, action, and profits.

Human energy is the door of opportunity for business. As the demands of our connected world increase, people no longer have the energy they once had to be fully engaged, productive, and innovative in the workplace--leaving business leaders in search of a solution.

In Fuel Your Business, you will discover life- and business-changing keys to success, such as:


How the science of energy is the secret to profit

How to free your business from toxic energy that wants to hold you back

How taking the assessment and knowing your score will put your business on the performance fast track

How to attract the energy you want--now!
Career Press, 9781601632968, 256pp.
Publication Date: December 30, 2013
About the Author

Gina Soleil is the CEO of Monarch Leadership, a culture development company, and Booya! Worldwide, a humanitarian organization dedicated to improving the health and well-being of humanity. For nearly two decades, Gina has been leading teams through transformational change, and developing high-performing leaders within companies that include Best Buy, United Health, and Caribou Coffee Company.
Gina now advises leaders on how to accelerate business performance by refueling the greatest resource of our time--human energy. Gina has a master's in organizational leadership/strategic management and a BA in professional communications/training and adult development. She lives in Minneapolis, Minnesota. Her Website is www.monarchleadership.com

or
Not Currently Available for Direct Purchase