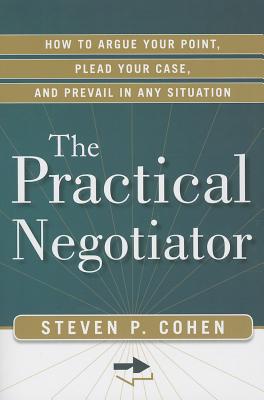 The Practical Negotiator: How to Argue Your Point, Plead Your Case, and Prevail in Any Situation (Paperback)
How to Argue Your Point, Plead Your Case, and Prevail in Any Situation
Career Press, 9781601632999, 224pp.
Publication Date: October 21, 2013
Description
" Steven Cohen's book, "The Practical Negotiator" is a well-written practical guide to the art and science of negotiation. Reflecting the voice of a highly skilled negotiation trainer and mentor, this "hands on" primer offers a nuanced understanding of the benefits and opportunities resulting from an interest-based approach to negotiations. I found the author's practical advice, offered in a concise Q and A format, to be pure gold."
--Bennett G. Picker, Esquire, author of Mediation Practice Guide
" A treasure trove filled with golden nuggets, based on sound, practical advice and deep understanding of how best to handle negotiations. Cohen's extensive international experience shines through, and the wide range of real-life situations covered, makes this a book to refer back to again and again."
--Brian Gosschalk, Head of Presidents' Office, Ipsos
" Steven Cohen's "The Practical Negotiator" is a valuable addition for all of us whose tool kit is a bit light on conciliation skills--and that's most of us."
--Justine Hardy, author of The Wonder House and In the Valley of Mist and founder of conflict rehabilitation program, Healing Kashmir
There's an Inner Negotiator in Everyone; "The Practical Negotiator" Helps You Find It.
Everyone needs to reach agreement with others, but many people are overly fearful of what they think is a complex process. In "The Practical Negotiator," Cohen demystifies negotiation, offering common-sense approaches anyone can use no matter what the issue.
"The Practical Negotiator" provides a broad range of real-life negotiating problems faced by people in dozens of countries from every continent (except Antarctica). Each question was submitted by a real person looking for advice. The book's down-to-earth approach will empower you to:
Assess your interests and strengths and find ways to build on them.
Understand the situation and the possibilities at hand.
Increase your confidence in dealing with others.
Develop and implement simple, practical strategies to further your interests.
Advertisement