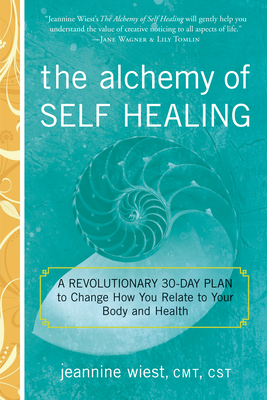 The Alchemy of Self Healing (Paperback)
A Revolutionary 30 Day Plan to Change How You Relate to Your Body and Health
New Page Books, 9781601633439, 224pp.
Publication Date: October 20, 2014
* Individual store prices may vary.
Description
We have more power to heal ourselves than we have been led to believe.

Your body is "Instant Messaging" you all the time.

These messages contain a unique cellular treasure waiting to be accessed. The discovery that your body (not your mind) is listening to you will transform your life. Your mind runs old programs, "defaults" to all that is familiar in your life, even when what's familiar is pain. The Alchemy of Self Healing will show you how to tap into your body wisdom that craves health and joy.

Take the Alchemy Quiz, follow the exercises, read the essays. At the end of 30 days, when you retake the quiz, you'll discover you have new resources and tools at your fingertips.

Jeannine Wiest, CMT, CST has created a week-by-week guidebook for tuning into the body so you can:


Transform old stories energetically lodged in your body that drain your well-being.

Reconnect with your body wisdom to access your creative resources.

Develop habits to navigate the cellular information your body communicates.

Respond to challenges with calm, focused energy.

Transform into the extraordinary version of you.
About the Author

Jeannine Wiest is an advanced certified craniosacral therapist, Reiki master, and holistic coach in Los Angeles, California. She has danced on Broadway, dissected a human cadaver, and has clients ranging from corporate escapees to Oscar winners, from billionaires to chronically ill children in Bali. Wiest received a BFA from Purchase College and holds craniosacral certification from the Upledger Institute, where she has been a longtime teaching assistant. Wiest is a leading expert in combining craniosacral therapy concepts and creative principles. Her mission is to open people's eyes to the significance of having a nature-based and metaphorical relationship with one's own body.

Praise For The Alchemy of Self Healing: A Revolutionary 30 Day Plan to Change How You Relate to Your Body and Health…
"If you have ever struggled with life's many curve balls, whether a personal loss, a serious illness or a genuine challenge, you will want the tools and techniques offered by Jeannine. This is a truly empowering work that promises a new level of wellness and personal authenticity. I highly recommend it."
--Eldon Taylor, PhD, FAPA, New York Times best-selling author of Choices and Illusions

"I devoured the book in a week and have never felt better! An absorbing, stimulating read in which improvements in both your mind and body occur immediately. Additionally, if you're looking to tap into your creativity, Jeannine Wiest's The Alchemy of Self Healing is better than any how-to creative writing manual. I found her simple yet energizing exercises extraordinarily helpful."
--Lisa Seidman, Emmy Award winner, writer for The Young and the Restless, author of Killer Ratings

"We all have old pain stories trapped inside of us. These stories affect our energy and keep us stuck in patterns of failure, doubt, and fear. With The Alchemy of Self Healing, Jeannine Wiest shows you how to recalibrate your perceptions so that you can shift what you now experience as stuck, painful, or ordinary into something xtraordinary."
--Sue Frederick, author of Bridges to Heaven

"Jeannine Wiest's The Alchemy of Self Healing will gently help you understand the value of creative noticing to all aspects of life."
--Jane Wagner & Lily Tomlin