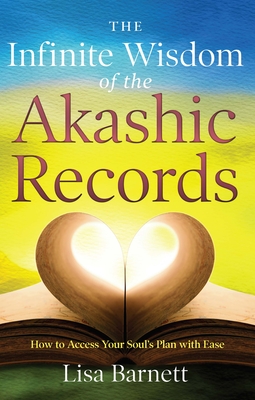 The Infinite Wisdom of the Akashic Records
How To Access Your Soul's Plan with Ease
Paperback

* Individual store prices may vary.
Description
The Infinite Wisdom of the Akashic Records
is an extraordinary book filled with unparalleled tools for transformation. Accessing the Akashic Records is one of the most powerful paths to self-awareness and personal change currently available. Lisa carefully and lovingly guides you through the Akashic Knowing Wisdom Prayer System, a five-step system with three vibrational keys to directly and easily access your Akashic Record. You will also become skilled at:  
The art of formulating questions to receive life-enhancing answers.
Releasing karma, soul contracts, and vows that bind you to negative life patterns.
Gaining clarity about personal situations by practicing exercises.
Learning new healing tools from the Akashic Lords to assist you in further releasing old issues and aligning with your life purpose.

Author Lisa Barnett has gathered all her most successful techniques, strategies, shortcuts, and wisdom into this one book so you can do it yourself--anytime, anywhere.
Praise For The Infinite Wisdom of the Akashic Records: How To Access Your Soul's Plan with Ease…
"I've been working with the Akashic Records for many years and I've found that The Infinite Wisdom of the Akashic Records is the most clear and comprehensive book I've ever seen on how to access the Records and then effectively utilize the knowledge you uncover. Lisa Barnett is a powerful writer as well as, in my humble opinion, a pure catalyst to the Masters of the Records. If you're looking for a way to find your life path, clear old karma, or heal physical, emotional, and spiritual issues, the Records will give you all the answers you're seeking and The Infinite Wisdom of the Akashic Records will gracefully open the door to the Records."
--Debra Halperin Poneman, best-selling Chicken Soup author and Founder & CEO of Yes to Success, Inc.
— Reviews

"Wouldn't you love direct access to the library of YOUR soul, the Akashic Record? Lisa Barnett provides you with the key to that access in her new book. Her approach is loving AND practical. She reminds us that how we think, feel and act NOW is within our control, and that our fears and worries reside in the past. Give yourself the gift of pure empowerment by reading this book and applying its wisdom in your life. Your expansion awaits!"
--Cari Murphy, Soul Success Coach and Award Winning Radio Host, International best-selling author of Treasures of Heaven
— Reviews

"Lisa Barnett is a profound teacher who has taken the wisdom of the Akashic Field and put it into practical lessons so that people can heal their emotional, physical, spiritual, and relationship issues. The Infinite Wisdom of the Akashic Records also gives readers insight into their personal Record that previously was available only in Lisa's classes. This book is true gift to anyone looking for support in living their passion!"
--Janet Attwood, #1 New York Times best-selling author of The Passion Test
— Reviews

"Whether you are just learning about the records or have worked with them extensively, [this book] will help you reach new understanding about the power of accessing your personal Akashic Record."
--Marci Shimoff, New York Times best-selling author of Happy for No Reason
— Reviews

"This is a fabulous book, a wonderful service to all readers."
--Dr. Ervin Laszlo, author of Science and the Akashic Field
— Reviews
New Page Books, 9781601633491, 192pp.
Publication Date: March 23, 2015
About the Author

Lisa Barnett founded the Akashic Knowing School of Wisdom to teach six new Akashic Access Prayers to humanity. She has helped thousands of people from around the globe find greater fulfillment, happiness, abundance, and health by accessing their own Akashic Record. As an internationally respected Akashic Records Transformational Teacher, Lisa has more than 20 years of experience guiding people to energetic healing and higher wisdom. She teaches her dynamic and powerful short-cuts for accessing the Akashic Records internationally, locally, and via online workshops. Lisa lives in the San Francisco Bay area with her husband and three teenage children.