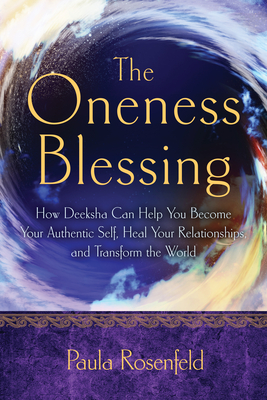 The Oneness Blessing (Paperback)
How Deeksha Can Help You Become Your Authentic Self, Heal Your Relationships, and Transform the World
New Page Books, 9781601633613, 240pp.
Publication Date: April 20, 2015
* Individual store prices may vary.
Description
The global phenomenon of the Oneness Blessing, also known as Deeksha, is a non-denominational transfer of energy from one person to another. Deeksha works in a neurobiological way, activating the frontal lobes of the brain and deactivating the parietal lobes. This subtle but powerful shift in brain function supports an experience of interconnectivity, awareness, authenticity, and bliss.

Partaking of the Oneness Blessing is not a religion or path; it requires no allegiance to any beliefs, doctrines, or practices. With surprising simplicity, it opens the door for ordinary people to discover what is unique, extraordinary, and true for them.

In The Oneness Blessing, Paula interviews awakened Oneness Trainers whose lives have been transformed through Deeksha. Their humor, gratitude, insights, and inspiration intimately illuminate what it means to live an awakened life. You will discover how Deeksha can catalyze:


A change in inner perception, resulting in miraculous shifts in relationships, prosperity, health, purpose, and joy

A letting go of resistance to people and situations

Relief from cravings and addictions

A shift in brain function that opens the heart, quiets the chattering mind, and lets one be fully alive
About the Author

Paula Rosenfeld, Certified Oneness Trainer, launched her Chicago, Illinois business, From The Heart Center, LLC, in 1992 and has been working ever since as a shamanic practitioner, energy worker, clairvoyant reader, coach, and meditation instructor. Her awakening in 2013 at Oneness University in India reignited a long-held dedication to the transformation of world consciousness. She returned to Oneness University to become a Certified Oneness Trainer, able to initiate others to become Deeksha Givers. Her website is fromtheheartcenter.com.

Praise For The Oneness Blessing: How Deeksha Can Help You Become Your Authentic Self, Heal Your Relationships, and Transform the World…
"There is an exciting transformation of human consciousness happening within humanity right now, and The Oneness Blessing captures this powerfully! It takes the reader on a well-rounded and in-depth look at the incredible Oneness Phenomenon sweeping the planet. The real-life experiences of awakened people offer a rich and inspirational guide to living a happy and meaningful life, filled with abundance and healed relationships. I highly recommend this enlightening book for everyone seeking a personal and collective shift in these exciting and evolutionary times!"
--Julia Desmond, author of Writings From the One, www.juliadesmond.com
or
Not Currently Available for Direct Purchase