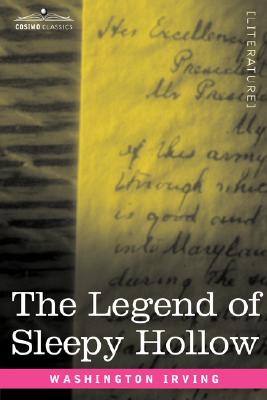 The Legend of Sleepy Hollow (Cosimo Classics Literature)
Paperback

* Individual store prices may vary.
Other Editions of This Title:
Paperback (6/13/2017)
Paperback (2/20/2020)
Paperback (6/3/2017)
Paperback (2/1/2019)
Paperback (9/23/2015)
Paperback (9/12/2008)
Paperback (12/5/2011)
Paperback (11/5/2015)
Paperback (11/27/2017)
Paperback (8/8/2018)
Paperback (2/24/2013)
Paperback (11/23/2015)
Paperback (2/14/2020)
Paperback (9/1/2004)
Paperback (1/3/2019)
Paperback (11/4/2018)
Paperback (9/29/2010)
Paperback (4/20/2013)
Paperback (4/22/2015)
Description
Ichabod Crane, a schoolteacher, came to Tarry Town in the glen of Sleepy Hollow to ply his trade in educating young minds. He was a gullible and excitable fellow, often so terrified by locals' stories of ghosts that he would hurry through the woods on his way home, singing to keep from hysterics. Among these stories was the legend of the Galloping Hessian, the headless horseman of Sleepy Hollow. Readers of all ages will enjoy this classic American short story about courtship, rivalry, and ghosts. WASHINGTON IRVING (1783-1859) was born in New York City to Scottish immigrant parents. Considered by some the "Father of American Literature," Irving is best known for his short stories, including "Rip Van Winkle," but he also produced an extensive bibliography of essays, poems, travel books, and biographies.
Cosimo Classics, 9781602061132, 104pp.
Publication Date: March 17, 2007