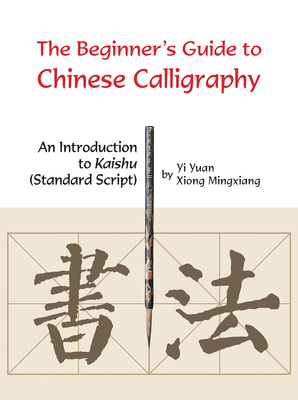 Beginner's Guide to Chinese Calligraphy
An Introduction to Kaishu (Standard Script)
Paperback

* Individual store prices may vary.
Description
Perfect for beginners, this calligraphy book teaches over 100 Chinese paintings and calligraphies along with historical and cultural information. As one of the most fascinating artistic form in the world, Chinese calligraphy has long been an area of interest to both novices and researchers. This easy-to-use guide introduces all the basic elements of the standard Chinese calligraphy script, Kaishu, with step-by-step instructions and diagrams for each of the 8 basic strokes. The purpose of this book is two-fold. On one had, it contains a short history of Chinese calligaphy and an introduction to Kaishu style, which embodies the very essense of the "Eastern arts" for those who find themselves interested in the arts of the Asian countries. On the other hand, for those who know about Chinese calligraphy and want to try their hand at it, the book, with Kaishu as a starting point, introduces the basic skills of the ancient and exquisite art of Chinese calligraphy. The rules and methods contained in the book will make the learning process easier with clear diagrams and images.
Reader's Digest Association, 9781602201132, 80pp.
Publication Date: October 10, 2010
About the Author
Mingmei Yip began writing and painting during her childhood in Hong Kong. Her first newspaper article was published when she was fourteen; the next year she was admitted to the prestigious Hong Kong Chinese Contemporary Artists' Guild, becoming its youngest member. For many years her paintings appeared regularly in Hong Kong exhibitions. She received her Ph.D. from the University of Paris (Sorbonne) and has studied the traditional Chinese arts of Tai Chi, Qin music, Buddhist sacred chant and calligraphy. Mingmei has collaborated with Carnegie Hall and the New York Metropolitan Museum of Art. She is the author of the popular Chinese Children's Favorite Stories and four novels: Skeleton Women, Peach Blossom Pavilion, Petals from the Sky and Song of the Silk Road. She lives in New York City.