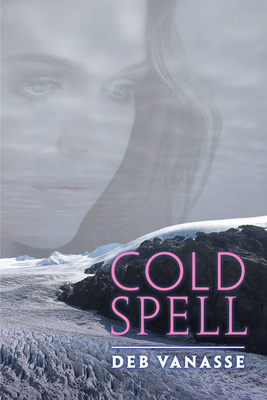 Cold Spell (The Alaska Literary Series)
Paperback

* Individual store prices may vary.
Description
With precise and evocative prose, Cold Spell tells the story of a mother who risks everything to start over and a daughter whose longings threaten to undo them both.
From the moment Ruth Sanders rips a glossy photo of a glacier from a magazine, she believes her fate is intertwined with the ice. Her unsettling fascination bewilders her daughter, sixteen-year-old Sylvie, still shaken by her father's leaving. When Ruth uproots Sylvie and her sister from their small Midwestern town to follow her growing obsession—and a man—to Alaska, they soon find themselves entangled with an unfamiliar wilderness, a divided community, and one another. As passions cross and braid, the bond between mother and daughter threatens to erode from the pressures of icy compulsion and exposed secrets.
Inspired by her own experience arriving by bush plane to live on the Alaska tundra, Deb Vanasse vividly captures the reality of life in Alaska and the emotional impact of loving a remote and unforgiving land.

Praise For Cold Spell (The Alaska Literary Series)…
"This lyrically written coming-of-age story from Vanasse grabs you from the opening line and never lets go."
— Publishers Weekly

"Alaskan writer Vanasse's novel captures the harsh beauty of the terrain as well as the strain of self-doubt and complicated family bonds."
— Booklist

"Voiced alternately between daughter and mother, Cold Spell is a beautifully written work detailing what happens when life throws the two a curve, and how each deals with the aftermath. Author Deb Vanasse has called Alaska home for thirty-six years, and it's evident that she cares for her adopted land and its denizens very much."
— Foreword Reviews

"Cold Spell is an honest and compelling coming-of-age-in-the-wilderness tale where packing bear meat and scaling a glacier are rites of passage. Sixteen-year-old Sylvie and her family move north and learn that there's the dream of Alaska, and then there's waking up from that dream. Vanasse's characters in the fictional Alaskan town are rustic and real and all of them, including the adults, experience growing pains."
— Melinda Moustakis, author of Bear Down, Bear North: Alaska Stories

"Cold Spell will catch you in its icy grip as Vanasse deftly reveals the cracks and fissures of a frozen heart. A love story, a coming-of-age tale, and glimpse into a rarely seen slice of Alaska, the story reminds us that a life without dreams and without love might not be living at all."
— Don Rearden, author of The Raven's Gift

"I was hooked from the first word, a chapter title no less—'Isostacy.' Vanasse folds landscape into a human story-scape with such honesty that I found myself suddenly distrustful of the usual writerly approaches to nature — the flattering romanticist, the swooning naturalist, the battling survivalist. Vanasse brings that same tenderized realism to the people she's created. (I'm loath to call them "characters." They are that real.) She's both tender toward them and unmerciful. As I finished the novel, I kept catching myself wanting to crawl into her brain, stake out a cozy corner, and keep watching life unfold through her eyes. I'm buying several copies for friends."
— Cindy Dyson, author of And She Was

"In subtle, careful prose, Vanasse explores what lures the so-called newbie to Alaska—from the myth to the very real magic of the wild—and, at the same time, creates a sensitive portrait of a family on the verge of falling apart. Poignant and compelling."
— Leigh Newman, author of Still Points North

"In clear, gracious prose Cold Spell tells the story of mother and daughter each caught at the intersection of desire and vulnerability. From the Midwest to the Far North, the story of Sylvie and Ruth shines a light on the complexity of mother-daughter relationships, while examining the trauma of a fractured home and the complications of starting over."
— Brendan Jones, author of The Alaskan Laundry
University of Alaska Press, 9781602232426, 224pp.
Publication Date: August 15, 2014
About the Author
Deb Vanasse is the author of nine books.
or
Not Currently Available for Direct Purchase