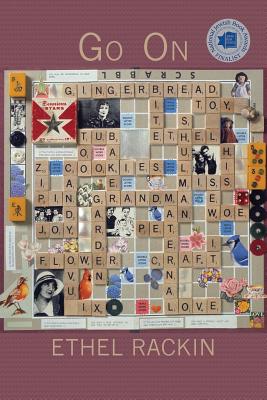 Go On (Free Verse Editions)
Paperback

* Individual store prices may vary.
Description
"Ethel Rackin's Go On immediately calls to mind Beckett's 'in the silence you don't know, you must go on, I can't go on, I'll go on, ' and out of that silence come these brief and powerful poems written 'after centuries of loss/ in the last century.' A visionary, Rackin's preoccupations are seeing and its impossibility. Time is both full of historical weight and the mysterious present, 'as if the before and after had frozen/ and couldn't be tracked down.' Quiet, sure, possessed of a subtle, winning tenderness, and often most at home in the quotidian, the poems dart among truths that startle: 'before I could tell another's lie I was lying in it, ' and 'The grief you imagine/ is easier than the grief you actually/ have to live through.' These are poems of our time. One marvels at their existence. Carefully, slowly, they carve a path of just how we might go on."--Gillian Conoley
"Recognition is the portal to entity and to something very like godliness. The gentle imperatives of Ethel Rackin's new poems urge us to sustain a longing for 'the face of recognition' and for the resulting entities--all of them wild, all of them free--that fulfill it." --Donald Revell
"I am deeply moved by Ethel Rackin's lyric poems. They continue the great tradition started in China on the one hand and Africa on the other, come together now in Pennsylvania at Rackin's kitchen table." --Gerald Stern
"Go On directs us to notice and to know the world with perfect vulnerability. The delights and difficulties trickling through the chinks of ordinary time swirl through these deceptively simple verses that, like Blake's, hum with the certainty of divine presence always near us but nearly always beyond comprehension. Rackin's expert development of the lyric's oldest properties carries forth the unpredictable relationship between human awareness and the visible world through 'elemental shifts' of spare, simple words that glimpse the unseen and touch its consciousness. 'It's not supposed to make sense, ' these graceful poems inform us, but our responsibility lies in baring ourselves emotionally and intellectually to others and the world as we make and find it. Only in this state of exposure, 'shirt open/ chest full of birds, ' do we gather the often fleeting, sometimes lasting rewards of hope and faith." --Elizabeth Savage
Ethel Rackin is the author of a previous collection of poems, The Forever Notes, published by Parlor Press in 2013. Her poems, book reviews, and collaborations have appeared in journals such as Colorado Review, Hotel Amerika, Jacket2, Kenyon Review, Verse Daily, and Volt. She earned her MFA from Bard College and her PhD in English Literature from Princeton University. She is currently an associate professor at Bucks County Community College in Pennsylvania.
Parlor Press, 9781602357969, 72pp.
Publication Date: October 8, 2016