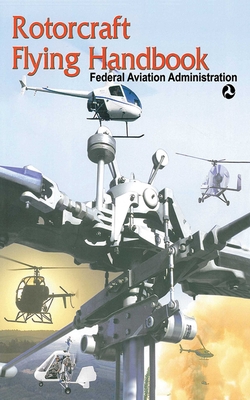 Rotorcraft Flying Handbook
Paperback

* Individual store prices may vary.
Description
The Rotorcraft Flying Handbook is designed as a technical manual for applicants who are preparing for their private, commercial, or flight instructor pilot certificates with a helicopter or gyroplane class rating. Certificated flight instructors may find this handbook a valuable training aid, since detailed coverage of aerodynamics, flight controls, systems, performance, flight maneuvers, emergencies, and aeronautical decision making is included. Contents: Chapter 1—Introduction to the Helicopter; Chapter 2—General Aerodynamics; Chapter 3—Aerodynamics of Flight; Chapter 4—Helicopter Flight Controls; Chapter 5—Helicopter Systems; Chapter 6—Rotorcraft Flight Manual (Helicopter); Chapter 7—Weight and Balance; Chapter 8 Performance; Chapter 9—Basic Flight Maneuvers; Chapter 10—Advanced Maneuvers; Chapter 11—Helicopter Emergencies; Chapter 12—Attitude Instrument Flying; Chapter 13—Night Operations; Chapter 14—Aeronautical Decision Making; Chapter 15—Introduction to the Gyroplane; Chapter 16—Aerodynamics of the Gyroplane; Chapter 17—Gyroplane Flight Controls; Chapter 18—Gyroplane Systems; Chapter 19—Rotorcraft Flight Manual (Gyroplane); Chapter 20—Flight Operations; Chapter 21—Gyroplane Emergencies; Chapter 22—Gyroplane Aeronautical Decision Making; Glossary and index.
Skyhorse, 9781602390607, 208pp.
Publication Date: July 17, 2007
About the Author
The Federal Aviation Administration is the national aviation authority of the United States. It regulates and oversees the aviation industry, pilot licensing, and airspace with the goal of providing "the safest, most efficient aerospace system in the world."