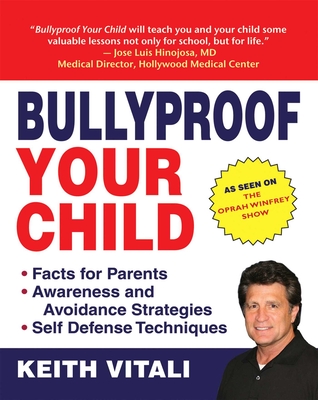 Bullyproof Your Child (Paperback)
An Expert's Advice on Teaching Children to Defend Themselves
Skyhorse, 9781602390768, 176pp.
Publication Date: October 17, 2007
Other Editions of This Title:
Paperback (5/19/2015)
* Individual store prices may vary.
Description
Grade school bullies are a fact of life. But kids can protect themselves from these tormenters, thanks to Keith Vitali, a Black Belt Hall of Famer and a past guest on the The Oprah Winfrey Show. He shows parents some very basic self-defense techniques that they can teach their children so kids have the skills to stand up for themselves in everyday situations. Vitali's simple instructions come accompanied by lots of black-and-white photographs in easy-to-follow, step-by-step sequences. In addition to explaining these defensive moves, Vitali explains what a bully is and the motivations behind his or her actions. Real-life stories provide additional insight into the emotional harm done to the victim, making this a valuable tool for parents and teachers alike.
About the Author
Keith Vitali began his martial arts career at the University of South Carolina in 1971 and it only took two years for Mr. Vitali to earn his 1st degree Black Belt. Keith began competing in regional tournaments then moved on to major events throughout the United States, then the world. Before he was done, Keith was named World Karate Champion one time, and US National Karate point Champion 3 consecutive years. (1978-1980). Keith is considered one of the 10 Best Fighters of all time according to Black Belt Magazine and was inducted into the Black Belt Hall Of Fame. He has appeared on more than a dozen Covers of other National Martial Arts Magazines. Keith has received numerous Lifetime Achievement Awards including being inducted into Officials Karate's Legion of Honor, into the Diamond Nationals Hall of Fame, Blue Grass Nationals Hall of Fame, and as a Centurion in Joe Corley's Battle of Atlanta. Keith was also inducted into the prestigious Black Belt Hall of Fame as 'Fighter of the Year' in 1981. Keith was also inducted into South Carolina's Martial Arts Belt Hall of Fame and Fighter International Hall of Fame. Keith Vitali also became a successful author of instructional karate books. His first book, "Beginning Karate", sold over 30,000 copies in its first run and is currently used as a textbook at the University of South Carolina . He has gone on to write "Karate Kicking" and "Winning Karate Techniques" for Contemporary Books as well as "Winning Tournament Karate" for Unique Publications. Keith Vitali has written a comprehensive book on bullying issues entitled, "Bully-Proof Your Child" by Skyhorse Publishers. This book covers all elements of bullying and will be used as a teaching aid for parents teaching their kids basic self-defense techniques and strategies.