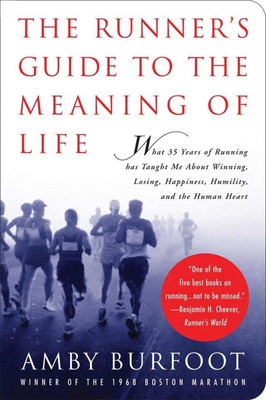 The Runner's Guide to the Meaning of Life
What 35 Years of Running Has Taught Me About Winning, Losing, Happiness, Humility, and the Human Heart
Paperback

* Individual store prices may vary.
Other Editions of This Title:
Paperback (4/22/2000)
Description
"One of the five best books on running."—Benjamin H. Cheever, Runner's World Magazine. Boston Marathon winner Amby Burfoot, one of running's wisest voices, presents 15 life lessons about passion, courage, materialism, failure, and regeneration, all learned during his more than 35 years of experience in running.
Here Amby Burfoot discusses a runner's essential traits—qualities necessary for everyone striving to reach a long-term goal—as well as the writing, music, and quotes that have continually inspired him. Most important, Burfoot explains that winners are not those who cross the finish line first, but those who discover more about themselves with every step. Lessons include:
How to Create a Life of Perpetual New Beginnings
On Tapping the Profound Power of Human Interaction
In the Race to Be Your Best, There is No Losing
What You Really Need, You Already Have
On the Power of Short Steps, Steady Progress
And more.
Buy it for your mom or dad, your running partner, or for yourself. It will become a handbook to guide your way—both in your running and in your life.
Skyhorse, 9781602391857, 160pp.
Publication Date: November 17, 2007
About the Author
Amby Burfoot won the Boston Marathon in 1968 and joined Runner's World ten years later. He became executive editor in 1985, and he held the position for twenty years before retiring in 2013. Amby has run 110,000 miles in his lifetime and owns the US's longest active "race road streak," having completed the Thanksgiving Day 5-mile run in Manchester, Connecticut, fifty-five years in a row. Currently a writer at-large for Runner's World, he has been honored by numerous running organizations both as an athlete and as a writer. Now in his early seventies, he continues running up to thirty miles a week.