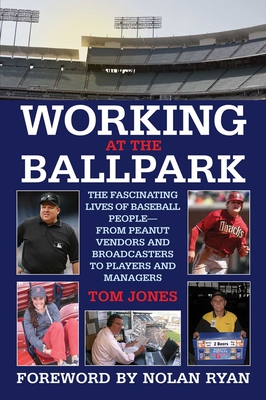 Working at the Ballpark
Paperback

* Individual store prices may vary.
Description
What if Studs Terkel wrote a book with Bill James? You'd have a book on what it's really like to make a living in the world of baseball. For everyone who ever dreamed of making their love of baseball into their vocation, Working at the Ballpark will provide a view at their lives that might have been, with interviews with more than 50 people who make a living in major league baseball. Each is asked the same questions: What is your job? How did you get into this line of work? What does this job mean to you? From peanut vendors and equipment managers to general managers and star players, from John Guilfoy, who sells sausages at Fenway, to Chris Hanson, who plays "Bernie Brewer" in Milwaukee, to Omar Vizquel, who anchors the infield at AT&T Park, this is an insider's perspective on the enormous scope of the game.

Skyhorse Publishing, as well as our Sports Publishing imprint, are proud to publish a broad range of books for readers interested in sports—books about baseball, pro football, college football, pro and college basketball, hockey, or soccer, we have a book about your sport or your team.

Whether you are a New York Yankees fan or hail from Red Sox nation; whether you are a die-hard Green Bay Packers or Dallas Cowboys fan; whether you root for the Kentucky Wildcats, Louisville Cardinals, UCLA Bruins, or Kansas Jayhawks; whether you route for the Boston Bruins, Toronto Maple Leafs, Montreal Canadiens, or Los Angeles Kings; we have a book for you. While not every title we publish becomes a New York Times bestseller or a national bestseller, we are committed to publishing books on subjects that are sometimes overlooked by other publishers and to authors whose work might not otherwise find a home.
Skyhorse, 9781602392267, 384pp.
Publication Date: April 17, 2008
About the Author
Tom Jones is a lifelong baseball fanatic. This is his first book. He lives in Sacramento, California.