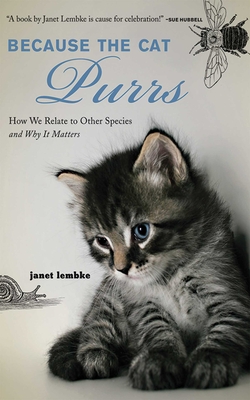 Because the Cat Purrs (Hardcover)
How We Relate to Other Species and Why it Matters
Skyhorse, 9781602392359, 240pp.
Publication Date: May 17, 2008
* Individual store prices may vary.
Description
"A new book by Janet Lembke is always a cause for celebration."—Sue Hubbell We share our lives, for better or worse, with a multitude of animals, white-tailed deer and white-tailed eagles, hens and wrens, frogs and guppies, and, last but hardly least, bugs and bacteria. For the most part, we drift along separately, with neither man nor animal affecting the other's way of life. Sometimes, however, we fall in love—as in the case of the cat in the title—or otherwise encounter our animal neighbors in ways that change both of us. Lembke challenges her readers to consider the idea that all creatures are conscious, with the ability to make choices, exercise awareness, and seek pleasure while shunning pain. Rarely has a book of natural history covered such a broad range of subjects, from the everyday bargains we make with our pets and other domestic creatures to descriptions of bungee-cord snail sex and the purpose of a honeybee's sting. Lembke explores the evolution of her subjects, and draws on literature and myth to paint gorgeous, wide-ranging portraits of everyday (and more unusual) encounters, such as that of a gardener and a groundhog, or a chicken egg and Augustus Caesar's wife. This is a sensitive and timely appraisal of how we treat the creatures we share our planet with—and how we ought to. It is a book that no lover of intelligent writing about the natural world will want to miss. 20 b/w illustrations.
About the Author
Janet Lembke is the author of many highly-praised books of natural history, gardening, and cooking, and numerous translations from Greek and Latin, including her recent version of Virgil's Georgics. Her essays have appeared in Audubon, Sierra, The Southern Review, and elsewhere. She lives Staunton, Virginia.