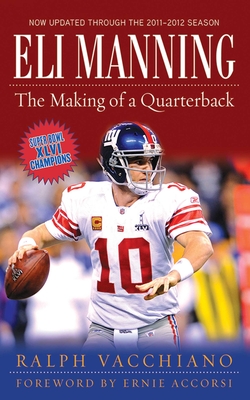 Eli Manning (Hardcover)
The Making of a Quarterback
Skyhorse, 9781602393172, 320pp.
Publication Date: September 3, 2008
Other Editions of This Title:
Paperback (10/24/2017)
Hardcover (2/27/2012)
* Individual store prices may vary.
Description
When Eli Manning found teammate Plaxico Burress in the end zone with just 35 seconds remaining in Super Bowl XLII, he completed what was perhaps the greatest game-winning drive and unlikely upset in Super Bowl history. But the drive, which also included a remarkable escape and pass completion to unheralded receiver David Tyree, was the culmination of years of promise and development. Champion quarterbacks aren't made overnight.

With Manning, the Super Bowl MVP, as its focal point, New York Daily News Giants beat writer Ralph Vacchiano's Eli Manning: The Making of a Quarterback is a fascinating insider's look at the National Football League, how stars are made and crushed, and how fortunes are won and lost on the performance of one man: the quarterback. From the bold draft day trade that brought Manning to New York, through his dramatic ups and downs on and off the field, his first training camp to his last-minute heroics in Super Bowl XLII, Vacchiano takes a candid and revealing look at the people and events that made Manning's and his 2007 Giants' success one of the greatest stories in modern sports history. Complete with exclusive interviews with NFL stars, coaches, and executives and a foreword by former Giants general manager Ernie Accorsi, Vacchiano uses his unfettered access to the world champion Giants to present a true, behind-the scenes look at the quarterback and team that defied all of the experts and oddsmakers to pull off one of the most phenomenal upsets in pro football history.