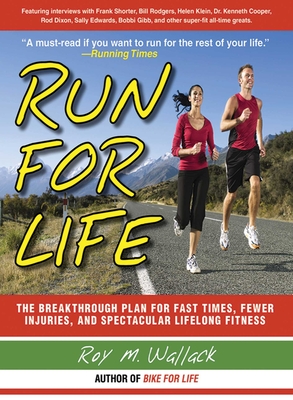 Run for Life (Paperback)
The Anti-Aging, Anti-Injury, Super-Fitness Plan to Keep You Running to 100
Skyhorse, 9781602393448, 320pp.
Publication Date: February 24, 2009
* Individual store prices may vary.
Description
Over 35 and want to win your age group and run injury-free for the next 50 years or even longer? Run for Life lays out a plan to help you run to 100. Traveling the running world from Kenya to Tahiti and Boston to Badwater in search of the keys to super-fit running longevity, Wallack tests new running methods, products, and fitness regimens, and talks to the world's top coaches, athletes, and researchers as he develops a science-backed, time-efficient strategy for long-term running fitness. Featuring 10 extensive oral-history interviews with super-fit, all-time greats, such as Frank Shorter, Bill Rodgers, and Dr. Kenneth Cooper, Run for Life brims with ground-breaking innovations, including:· Soft Running: A bio-mechanical overhaul that reduces knee-shock by 50% · A Call to Arms: A cheap, simple handgrip that automatically perfects your form · HGH Strength Training: Fast, high-intensity resistance exercises that stop age-related muscle deflation and build speed, power, balance, and quick-reaction time by jacking up the natural release of human growth hormone · The Ultra Interval: Crazy-hard 20- and 30-second all-out sprints that leave you gasping and cue rapid strength increases that essentially make you younger · High-tech Water Running: New pool tools that are making champion runners faster and safer on land · Barefoot Running: How going shoeless strengthens feet, cuts shock, and adds running longevity · Yoga on the Run: A just-for-runners flexibility/warmup program designed by famed multisport yogi Steve Ilg · And much more!
or
Not Currently Available for Direct Purchase