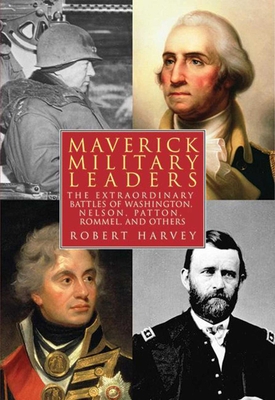 Maverick Military Leaders
The Extraordinary Battles of Washington, Nelson, Patton, Rommel, and Others
Hardcover

* Individual store prices may vary.
Other Editions of This Title:
Paperback (7/1/2013)
Description
From the high seas at Trafalgar to the dusty battle fields of Sinai, the course of history has been changed by military mavericks who lead from the front. In the current age of backroom generals who command from far behind the front lines, it is often forgotten that wars have been won or lost by the personality and leadership of a maverick commander. Here for the first time together are the stories of the military careers of Ariel Sharon, Simon Bolivar, Robert E. Lee, Henri Gouraud, Douglas MacArthur, Horatio Nelson, Georgy Zhukov, William Slim, and many more. In sixteen riveting portraits, bestselling historian Robert Harvey (The War of Wars) explores how these lone leaders came to power, and how their unique leadership styles affected the extraordinary events of Stalingrad, Chancellorsville, Austerlitz, Messina, Junín, Yorktown, Inchon, Plassey, Imphal, Sinai, and Salamanca, among others. Explore Napoleon's reputation as an aggressive tactician, Bolivar's talent for flamboyant improvisation, and George Washington's careful and calculated patience. Discover the history behind the nicknames of "Old Blood and Guts" (Patton) and "the Desert Fox" (Rommel). Maverick Military Leaders is a definitive, one-volume account of some of history's most important and surprising battles and the commanders who won the field. 
Skyhorse, 9781602393561, 432pp.
Publication Date: February 1, 2009
About the Author
Robert Harvey has been a columnist for the Daily Telegraph, assistant editor of the Economist, and a member of British Parliament. He is the author of many books, including The War of Wars; The Undefeated: The Rise, Fall, and Rise of Greater Japan; Portugal: Birth of a Democracy; Liberators; Global Disorder: America and the Threat of World Conflict; Cochrane; and Bolivar.
or
Not Currently Available for Direct Purchase