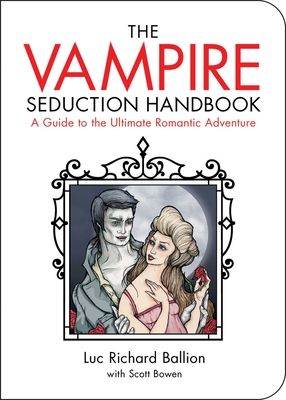 Vampire Seduction Handbook (Paperback)
Have the Most Thrilling Love of Your Life (Zen of Zombie Series)
Skyhorse, 9781602397460, 256pp.
Publication Date: October 1, 2009
* Individual store prices may vary.
Description
Women daring and lucky enough to discover romance with a vampire claim to enjoy the most intense love and sex of their lives. But how do you find a vampire of your very own? And just how do you get him interested in ravishing you within an inch of your life? Will the ecstasy of the coupling be worth the inherent risks of vampire love—the risks of drinking your blood, the risks of secrecy, and the risks of betrayal?   

At last, this step-by-step guide will help women the world over to experience the pleasures of vampire romance. You'll learn why these creatures make the best lovers (stamina, overpowering strength, and deep appreciation of women) and the best places to find a vampire and, no, it's not in graveyards. Once you've been initiated into the realm of human-vampire sex, you'll want to know about vampire turn-ons, games vampires play, dealing with jealousy, and finally, whether or not to consider becoming a vampire yourself. Author and vampire Luc Richard Ballion reveals his tricks on balancing blood-play with physical thrills, and includes true descriptions of trysts across the ages, compatibility checklists, and an A-to-Z of troubleshooting. The result is a book you would die for. Really.