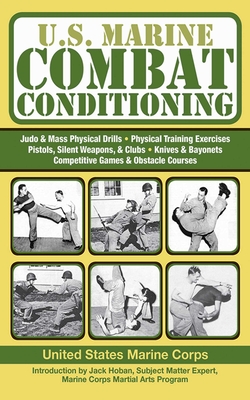 U.S. Marine Combat Conditioning (US Army Survival)
Paperback

* Individual store prices may vary.
Description
U.S. Marine Combat Conditioning is a complete reproduction of the combat conditioning program that was completed by all World War II-era Officer Candidates while at OCS in Quantico, Virginia. Combat Conditioning is defined as the physical and mental conditioning of individual Marines for hand-to-hand combat and is an essential part of the progressive training of all Marines. In addition to conditioning the Marines physically, the program is designed to help them overcome inhibitions toward physical contact. The goal is not only to gain physical strength, agility, and endurance but also to develop confidence as a hand-to-hand fighter both with and without weapons. Additionally, this manual serves as the guide for individual Marine units when establishing their own combat conditioning programs.

An invaluable part of U.S. military history, the lessons remain relevant even to-day. With over 200 photographs, U.S. Marine Combat Conditioning demonstrates—in vivid detail—the exercises and training techniques used by marines to prepare for combat as well as their proper application. The program incorporates mass physical drills, competitive games and exercises, and specially designed obstacle and assault courses. In addition to the rigorous physical training, it includes combat instruction in judo as well as the use of knives, bayonets, clubs, silent weapons, and pistols.
Skyhorse, 9781602399624, 352pp.
Publication Date: February 23, 2011