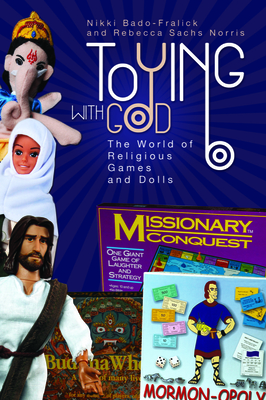 Toying with God (Paperback)
The World of Religious Games and Dolls
Baylor University Press, 9781602581814, 232pp.
Publication Date: February 1, 2010
* Individual store prices may vary.
Description
Maybe you have seen the board games. Christianity has Vatican: The Board Game; Journeys of Paul, Armor of God and Divinity (the only game to have the imprimatur of the Catholic Church). Islam and Judaism have Race to the Kabah, Mecca to Medina, Exodus, and Kosherland. Buddhism has Karma Chakra and BuddhaWheel. And then there are the dolls--plush and plastic talking Bible dolls, Christian action figures, and talking Muslim dolls that teach Arabic.
Have we humans blended fun with spirituality for good or for ill? And what does all of this say about our insatiable need for fun?
Written with verve and a healthy dollop of humor, Toying with God examines the sometimes zany world of religious games and dolls, from pre-history to today. Packed with examples that propel the narrative (and add immeasurably to readers' knowledge of religious trivia), this is a must-read for anyone interested in the intersection of popular culture and spirituality.
About the Author
Nikki Bado-Fralick (1954-2016) was Associate Professor and Director of the Religious Studies Program at Iowa State University.Rebecca Sachs Norris is Associate Professor and Chair of Religious and Theological Studies, Merrimack College. She lives in the Boston, Massachusetts area.