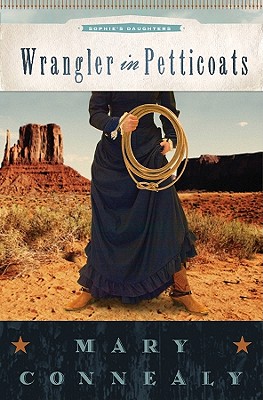 Wrangler in Petticoats (Paperback)
Barbour Books, 9781602601475, 320pp.
Publication Date: October 1, 2010
* Individual store prices may vary.
or
Not Currently Available for Direct Purchase
Description
Ride into the Rockies where love peaks between a tough Texas tomboy and a passionate artist. On her way to Montana, Sally McClellan's party is attacked and robbed. But then artist Logan McKenzie saves the badly wounded cowgirl who has been left for dead. Can this landscape painter tame the tomboy without breaking her spirit? Sally doesn t know much about ribbons and lace, but Logan's presence makes her want to connect with her feminine side. Will this fractured female discover a way to capture the artist's love or find herself captured and killed by outlaws?
Praise For Wrangler in Petticoats…
Mary Connealy has once again given her readers a great mix of all the things that make a great inspirational romance. Laughter and tears, love and family, God's beauty and mercy as well as an action packed tale makes this story another one that's hard to put down. Sally and Logan are both strong, independent individuals, in their own way. Their differences are as vast as the Wild West yet that's what pulls them together.
-Trudy

I am not sure why I seem surprised. Reading a story from romantic comedian Christian Historical Fiction author Mary Connealy always sends me through a whirl of emotions. Wrangler in Petticoats is another one in a long line of entertaining reads with big messages. Through the pages a reader will be taken into a romance that is full of blushes and shy grins, but also giggles and plain out chuckles. Yet you also get deep conversations on topics of discussion like marriage, family, and true love
-Margaret Chind

How can anyone possibly go wrong with reading Mary Connealy books? It would be baffling to think that someone WOULDN'T like her amazing, funny, sweet and lovable books! From the laughter, to sweet cowboys, to a touch of suspense in each one, her books are GLOURIOUSLY WOWmazing. And, each new addition to her series collections seem to get better and better with each one.

So, once more, I sing the highest of 5 star praises for this funny, charming God filled addition to Sophie's Daughters. With just a touch of mystery to give it twists, Connealy's cowboys, laughter and Western country are the perfect themes to her perfect books and meant for every book lover's shelves! I can't WAIT to read Sharpshooter in Petticoats, book 3 in this laugh out loud series.


-Molly Edwards

You know, I think I've decided to stop reading Mary Connealy books. I pick it up and then am so enthralled that real life stops & I'm part of the book. I can't eat, I can't sleep, forget the laundry, the kids can make their own dinner.... UGH! Well, maybe I'll quit later -- on to the next in the series!!


-Regina Hott

Over all I give it high marks and recommend if your reading the series to not skip this book because you would miss a lot and that would make the 3rd book a little harder to get into.


-Abbie Tireman

My personal opinion is that this book was better than the first one in this series. I love the fact that family is truly that...family, and they stick up for one another. It is also amazing how difficult things were but in fact life was so simple. Mandy, Sally and Beth all are such a big part of this book and they happen to all be very strong independent women. I love the fact that they can handle what ever life throws at them plus a little extra.


-Tammy Graham

During the second instalment in the Sophie's Daughters series Sally McClellan comes to learn a lot about herself and her thoughts on love and marriage with the help of the sensitive artist who becomes her rescuer. Fans of Mary Connealy and wild west romances won't be disappointed by this novel, and it's sure to make your heart pound and put a smile on your face.


-Rachel Ropper

I was rather surprised by how much I liked this book. The plot was fantastic, the characters were both interesting and well-developed, and the setup for the next book was lovely without banging you over the head with it's obviousness. The romance was sweet and believable, and the action was exciting with some very close calls.



So in the end, I surprise myself by saying, 4/5 Stars, and I'm actually going to pick up the next book in the series, Sharpshooter in Petticoats


-Jess Richardson

This is the first I have read from Mary Connealy and have to say she knows how to write a story. Not only do we know about Sally and Logan but also her family. The book is about Sally and Logan, but Ms. Connealy has a way of bringing in other characters in a very fluid way. One minute I'm reading about Logan and his paintings then about Mandy. Mary Connealy did a great job in showing us there is more to Mandy than just a housewife. This was definitely a great book and I look forward to reading more by this talented author.
-Melinda Barrera
Advertisement