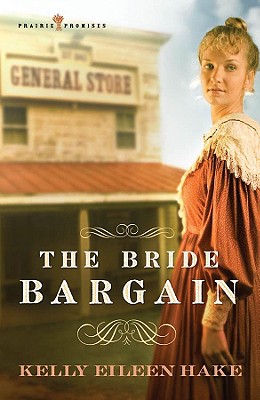 The Bride Bargain (Paperback)
Barbour Books, 9781602601758, 288pp.
Publication Date: September 1, 2008
* Individual store prices may vary.
or
Not Currently Available for Direct Purchase
Description
Enjoy a novel full of humor and heart-warming romance from debut author Kelly Eileen Hake. Set along the Oregon Trail, it's the story of desperate measures that lead lonely people to love.
Praise For The Bride Bargain…
THE BRIDE BARGAIN is book one in the Prairie Promises series by Ms. Hake. I thoroughly enjoyed reading this fun new series and am looking forward to the other books in the series. There faith message is expertly woven in and isn't preachy. I loved getting to know Cara, Doreen and Saul, and the cast of secondary characters really filled the story out. The story was laugh out loud funny at times. I loved the different twist to the wagon train story. Don't miss THE BRIDE BARGAIN. It is a great story with a unique take. $10.97. 288 pages.




-LAURA HILTON

A huge family feud that includes many of the townspeople, an ornery ox, a sweet young lady, and multiple storylines combine to make this a book that I couldn't put down. The historical details are accurate, down to names of hoax "medicines" available at the time, harvest activities, and social gatherings. The story was hilariously funny and serious by turns, and is a hit by Kelly Eileen Hake. I'm recommending this book to everyone who loves historical fiction.




-KIMBERLY TAYLOR
Advertisement