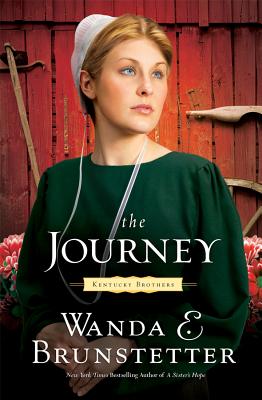 The Journey (Paperback)
Barbour Publishing, 9781602606814, 384pp.
Publication Date: April 5, 2011
* Individual store prices may vary.
or
Not Currently Available for Direct Purchase
Description
Now a New York Times and USA Today Besteller Discover along with Titus Fisher how life can begin anew in Christian County, Kentucky. Moving from Pennsylvania, finding rewarding work, and leaving a broken romance behind is the best decision Titus ever made. But is he ready to consider love again when he meets two women: one who seems perfectly suited for any Amish man and one who challenges long held ideas of the woman's role. Who will Titus choose, and will it be the right choice?
Praise For The Journey…
I really loved this story. You can usually tell in stories like this that if the guy starts out hating the girl they usually end up together, but I was really left guessing who he would pick until the end. The story also contains a mystery about some money that is found that I found really interesting too. I liked seeing how Titus really grew throughout the book and started really find his way in life. He included God in helping him make those decisions and I think that really helped him in the end. Suzanne also grows in this story and people learn to accept her for who she really is and not who she is expected to be. I really loved this story and would recommend it to people who enjoy Amish fiction or inspirational fiction.
-Lori Adams

This story was very sweet and I just loved Titus and Pheobe. I was a little confused by some of the characters in Lancaster, it seemed that I was missing something and I now realize Wanda E. Brunstetter has many Amish stories out and it seems they are characters from previous books. It did not take away from the story, it just makes me want to pick up some of the previous novels. This was a nice, clean christian book that was a refreshing read.
-Denise Schirmuhly

I loved this story - the broken hearts, the family interactions, the community, the misunderstandings, the mystery, the drama, and the reliance on God. I experienced a vast array of emotions while I read - joy, frustration, fear, relief, pain - as well as laughing out loud, shedding a few tears, and lots of smiles. I would recommend this novel to anyone who would enjoy inspirational fiction, Amish fiction, or a sweet love story.


-Barbara Beers

Wanda has a way of bringing in sorrow and humor together that makes you feel at ease.  One minute you feel sorry for Titus on how insecure he is and the next you are laughing when he falls in a pile of manure.

I also love the innocent humor among the characters.  I was laughing out loud through quite a few pages causing stares from some people ( guess they never read a good book ).   This was a fun and easy read.  If you have reservations of starting a Amish read give some a try. I am glad I did.  
-Barbara Hightower

I enjoyed reading sort of a continuation of the Fisher family from the Daughters of Lancaster County series. I liked that this story focused on one of the twins. Suzanne Yoder is granddaughter to the owner of the woodworking shop where Titus is working in Kentucky. I thought it was refreshing how she was unable to cook, not interested in finding a husband, and wanted more than anything to join her male family members in the family's woodshop. Suzanne grows in this book, but ultimately stays true to herself. I was really impressed by this novel and am excited to read the rest of the series.
-Samantha McMahon

This book for me was inspiring. I can relate to Titus, in a very realistic way. I love reading inspirational stories that offer hope for the future.  Personally I could not put, The Journey, down. I wanted to read it till it was finished. I was intrigued by the story line, and captivated by the series of events.  Mrs. Brustetter does a wonderful job at integrating a great deal of emotions into one book. She captures the reader's attention, through adventure, suspense, love and faith.  This book inspires others to look at the motives of their hearts. It also teaches us valuable lessons of forgiveness, family, love and redemption.
-Sharise Toombs

Ms Brunstetter has written extensively about the Amish and her novels are full of color, family, personal hope, disappointment, confusion, and love.  People often forget that just because their lifestyle is completely governed by their faith, they still encounter the same challenges and problems everyone must resolve.  They are imperfect people as are all of us, they don't always do the wisest thing, they get upset at each other and their children have the same struggles growing up.  If anything, the restrictive way of life can sometimes make growing up even more difficult, although those guidelines, while seeming to oppress, are just live very good fences which keep people and other creatures safe.



I greatly enjoyed this novel and found their ways of relating to be heart-warming and inspirational.  My own family has a very strong faith base, but whether or not that is the case with readers, there are still wonderful scenes in this book to be encountered and genuine people to meet.  While it is fiction, it very accurately reflects the way families and individuals resolve their questions, problems, and challenges.  And like all of us, Titus learns that he has the capability to make choices that will insure a measure of happiness for him and any future family he may have.



This is really an old-fashioned love story and I hope you all will read it soon.  


-Judith Hirsch-Kikejs

This is a great book and I can't wait until the fall when the next in the series comes out "The Healing"
-Edna Tollison

As you follow along with the story you will have some very sad, moving moments, and some really laugh out loud times. The trust in the Lord is seen in both families is very inspirational. This is a wonderful story, and I can't wait for the next book in the series.

-Maureen Timerman

Wanda E. Brunstetter integrates a montage of issues - parents dealing with rebellious children, opposition to women doing a man's job, letting go of grown children, finding self-worth, total Reliance in God - into one captivating book. Amid intrigue, drama, misunderstandings, and romance, the main characters learn valuable life lessons and mature along the way.  Recommend this page-turner for fans of Amish novels and inspirational fiction.
-Nancy Kanafani

Wanda E. Brunstetter's The Journey is the first book in the new Kentucky Brothers series. We meet Titus Fisher, who desperately needs to start a new life after having his heart broken by Phoebe Stoltzfus, the woman he'd grown up planning to marry. Titus decides to make a change, and an Amish community in Christian County, Kentucky, seems like just the right place to do it. In Christian County Titus becomes intrigued with Suzanne Yoder, who is an unusually talented woman, struggling to fit into the traditional parameters of the Amish life. But what will Titus do when Phoebe shows up unexpectedly, suddenly ready to marry him? Brunstetter smoothly leads us on a life journey with Titus and the many characters we meet in this new series. New and longtime fans of Amish fiction will be eager to continue the travels with book two, The Healing (on sale in September), and book three, The Struggle.
-Dee Ann Grand

I thought The Journey was a beautiful story, and having never read another Amish fiction book set in Kentucky, it kept things very interesting.  The usual setting is Pennsylvania or Ohio, so that initially made this book unique.  We also saw a lot more of the man's perspective as large parts of the book were about Titus' thoughts and feelings.
  

I also loved the ending.  I won't give it away, but I will say it leaves you wanting more, waiting for the next book, but without being upset the author cut off at such a point.  Still, I will be reading the next book in the series, The Healing, (and maybe if I am lucky I can do an advance review!)


-Camille Buffenmeyer

The Journey is a wonderful story with beautifully developed characters and a detailed, complex plot.  Brunstetter takes us on a journey around the US, with the story happening simultaneously in Pennsylvania, Kentucky, and California. 


-Tonya Scott

Once again, I was impressed with the work of Wanda Brunstetter
-Tammy Graham

I was so excited to catch up with the Fisher family from my favorite Wanda Brunstetter series, Daughters of Lancaster County. I really enjoyed how Wanda weaved that past series into this new book and how we were able to see how the family has grown.  I can't believe how it ended and can't wait to read the next one in the series! 


-Jodie Moore

Another great book by Wanda E Brunstetter.
-Jenny Blake

Amish fiction is one of my favorite categories of fiction. Wanda Brunstetter is a pro at this type of fiction and keeps churning out book after book that delights readers all over the world, including me. This book was a great read and it was a very easy and inspiration read.


-Janis Rodgers

This book is more than a love story, but it deals with young adults coming into their own and finding their own life's path.  I loved it!
-Barb M.

The Journey by Wanda E. Brunstetter kicks off a brand new series (called "Kentucky Brothers") that centers on Titus Fisher as he begins a new life in Christian County, Kentucky. Leaving his past, Titus meets two different women---one a potential girlfriend and the other, a painful reminder of a lost love.  I was definitely caught up in this series and can't wait to share The Healing with you this fall!
-Susan Choy
Advertisement