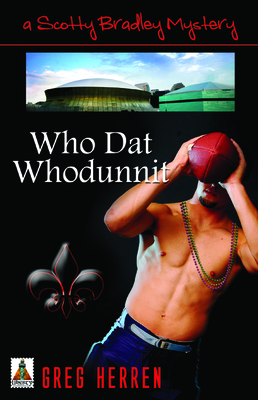 Who Dat Whodunnit (Paperback)
Bold Strokes Books, 9781602822252, 231pp.
Publication Date: May 17, 2011
Description
A Scotty Bradley Mystery
The Saints' victory in the Super Bowl just prior to the start of Carnival season has everyone in New Orleans floating on Cloud Nine. But for Scotty Bradley, Carnival looks like it's going to be grim yet again when his estranged cousin Jared--who plays for the Saints--becomes the number one suspect in the murder of his girlfriend, dethroned former Miss Louisiana Tara Bourgeouis. Scotty's not entirely convinced his cousin isn't the killer, but when he starts digging around into the homophobic beauty queen's sordid life, he finds that any number of people wanted her dead. With the help of his friends and family, he plunges deeper and deeper into Tara's tawdry world of sex tapes, fundamentalist fascists, and mind-boggling secrets--secrets some are willing to kill to keep

About the Author
Greg Herren is a New Orleans-based author and editor. Former editor of Lambda Book Report, he is also a co-founder of the Saints and Sinners Literary Festival, which takes place in New Orleans every May. He is the author of ten novels, including the Lambda Literary Award winning Murder in the Rue Chartres, called by the New Orleans Times-Picayune "the most honest depiction of life in post-Katrina New Orleans published thus far." He co-edited Love, Bourbon Street: Reflections on New Orleans, which also won the Lambda Literary Award. He has published over fifty short stories in markets as varied as Ellery Queen's Mystery Magazine to the critically acclaimed anthology New Orleans Noir to various websites, literary magazines, and anthologies. His erotica anthology FRATSEX is the all time best selling title for Insightoutbooks. Under his pseudonym Todd Gregory, he published the bestselling erotic novel Every Frat Boy Wants It and the erotic anthologies His Underwear and Rough Trade.
Advertisement