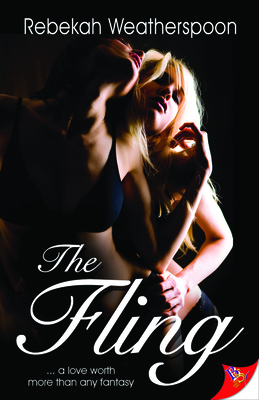 The Fling
Paperback

* Individual store prices may vary.
Description
Three months before her wedding to her post-college sweetheart, reality show producer Annie Collins finally acknowledges her dormant desires. Wrapped in the arms of another woman--her trainer, Oksana Gorinkov--Annie experiences a physical heat she never knew existed. Soon the one-night stand meant to be her final farewell to the single life stretches into a consuming month-long affair, the genuine intensity of which neither woman can ignore. Annie sees where her heart belongs, and though the objections from her family and friends and the scars from Oksana's ex threaten to drive them back to their respective sides of Los Angeles, Annie knows she must fight for this relationship, a real love worth much more than any fantasy she's ever dreamed up.
Bold Strokes Books, 9781602826564, 264pp.
Publication Date: April 17, 2012
About the Author
After years of meddling in her friends' love lives, Rebekah turned to writing romance as a means to surviving a stressful professional life. She has worked in various positions from library assistant, meter maid, middle school teacher, B movie production assistant, reality show crew chauffeur, D movie producer, and her most fulfilling job to date, lube and harness specialist at an erotic boutique in West Hollywood. Her interests include Wonder Woman collectibles, cookies, James Taylor, quality hip-hop, football, American muscle cars, large breed dogs, and the ocean. When she's not working, writing, reading, or sleeping, she is watching Ken Burns documentaries and cartoons or taking dance classes. If given the chance, she will cheat at UNO. She was raised in Southern New Hampshire and now lives in Southern California with an individual who is much more tech savvy than she ever will be.