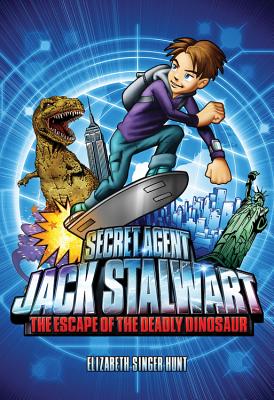 Secret Agent Jack Stalwart (Paperback)
Book 1: The Escape of the Deadly Dinosaur: USA (The Secret Agent Jack Stalwart Series #1)
Weinstein Books, 9781602860049, 128pp.
Publication Date: September 4, 2007
Other Editions of This Title:
Paperback (4/1/2008)
Paperback (4/7/2009)
Paperback (11/14/2007)
Paperback (5/12/2009)
Paperback (2/3/2009)
Hardcover (3/22/2016)
Hardcover (3/22/2016)
Hardcover (3/22/2016)
MP3 CD (3/20/2011)
* Individual store prices may vary.
Description
In The Escape of the Deadly Dinosaur, Jack zooms to the city that never sleeps to try to solve the mystery of the missing Allosaurus toe. Starting at the Natural History Museum, Jack's detection takes him to a competitive grade-schooler determined to win the science fair with his experiment crossing his own dog with the DNA from the bone of a dangerous, carnivorous dinosaur. Soon the gargantuan creature is terrorizing New Yorkers and Jack must stop him before he devours the animals in the Central Park zoo!
About the Author
Elizabeth Singer Hunt is the author of the wildly popular Secret Agent Jack Stalwart series for younger readers. The series has been named a 'must read' for boys by the British Education Secretary and was selected for inclusion in the Richard and Judy Children's Book Club (UK; 2007). Recently, it was serialized by the BBC Radio 4's Big Toe Books program.

The author lives with her family in northern California. For more information about Elizabeth and the Jack Stalwart series, visit www.jackstalwart.com.