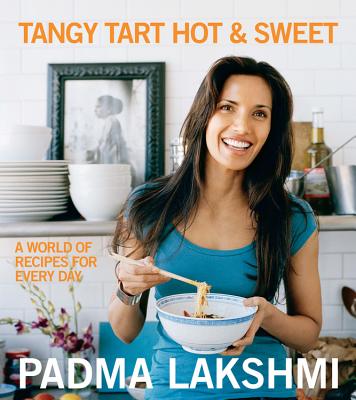 Tangy Tart Hot & Sweet: A World of Recipes for Every Day (Hardcover)
A World of Recipes for Every Day
Weinstein Books, 9781602860063, 265pp.
Publication Date: October 2, 2007
Description
As host of Bravo's popular Top Chef, Padma reaches millions of viewers each week and returns to the page with recipes for sophisticated international cuisine that are easy to prepare. Inspired by her travels to some of the most secluded corners of the planet, Padma shares with cooks the origins of her latest exotic recipes. But you'll never have to feel as though you've just traveled the world in order to prepare them. Padma makes it simple to impress your guests with more than two hundred elegant and savory dishes such as Hot and Sour Fruit Chaat, Tangy Jicama Salad, Puree of Roasted Aubergine, Couscous with Merguez Sausage, South Indian Spinach and Lentil Soup, Red Snapper with Green Apple and Mint Chutney, Roasted Citrus Chicken, Barbecue Korean Short Ribs, and Honeycomb Ice Cream. From appetizers to entrees, soups to desserts--Tangy Tart Hot & Sweet is the perfect book for anyone who wants cooking to be easy, elegant, and unforgettable.
About the Author
Padma Lakshmi is an award-winning cookbook author, an internationally renowned actress and model, and the host of Bravo TV's highly acclaimed Top Chef. She is the author of Easy Exotic, recipes for a delicious low-fat diet. She lives in New York.
Advertisement