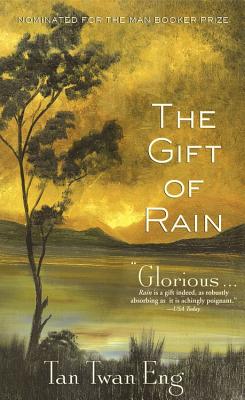 The Gift of Rain
A Novel
Paperback

* Individual store prices may vary.
Other Editions of This Title:
Hardcover (5/1/2008)
Description
In the tradition of celebrated wartime storytellers Somerset Maugham and Graham Greene, Tan Twan Eng's debut novel casts a powerful spell.
The recipient of extraordinary acclaim from critics and the bookselling community, Tan Twan Eng's debut novel casts a powerful spell and has garnered comparisons to celebrated wartime storytellers Somerset Maugham and Graham Greene. Set during the tumult of World War II, on the lush Malayan island of Penang, The Gift of Rain tells a riveting and poignant tale about a young man caught in the tangle of wartime loyalties and deceits.
In 1939, sixteen-year-old Philip Hutton-the half-Chinese, half-English youngest
child of the head of one of Penang's great trading families-feels alienated from both the Chinese and British communities. He at last discovers a sense of belonging in his unexpected friendship with Hayato Endo, a Japanese diplomat. Philip proudly shows his new friend around his adored island, and in return Endo teaches him about Japanese language and culture and trains him in the art and discipline of aikido. But such knowledge comes at a terrible price. When the Japanese savagely invade Malaya, Philip realizes that his mentor and sensei-to whom he owes absolute loyalty-is a Japanese spy. Young Philip has been an unwitting traitor, and must now work in secret to save as many lives as possible, even as his own family is brought to its knees.
Praise For The Gift of Rain: A Novel…
"Glorious ... Rain is a gift indeed, as robustly absorbing as it is achingly poignant."
—
USA Today
"A true saga ... The Gift of Rain overflows with mesmerizing beauty and wonder ... an eloquent tale about friendship transforms into a frightful chronicle of betrayal and survival."
—
Minneapolis Star Tribune
"The Gift of Rain sends the reader back into the world of Somerset Maugham-the waning British Empire, the simmering discord between classes and races, the thick tropical surroundings that are both beautiful and suffocating-but at a different angle. Maugham cast a cynical eye on human nature and its frailties; Tan Twan Eng looks upon them with compassion, like a creator might view the imperfections of his handiwork."
—
Cleveland Plain Dealer
"Eng's graceful prose evokes a time and place that is little known or remembered now, making it both exotic and familiar, and his beautiful narrative is woven with strong images and characters .... The Gift of Rain is a gift to read."
—
San Francisco Chronicle
"Beautifully written and deeply moving, Tan Twan Eng's debut novel is one of the best books I've ever read .... Anyone who thinks the novel is in decline should read this one."
—
Philadelphia Inquirer
Hachette Books, 9781602860742, 450pp.
Publication Date: May 5, 2009
About the Author
TAN TWAN ENG was born in Penang, but lived in various places in Malaysia as a child. He studied law at the University of London, and later worked as an advocate and solicitor in one of Kuala Lumpur's most reputable law firms. He also has a first-dan ranking in aikido and is a strong proponent for the conservation of heritage buildings. He has spent the last year traveling around South Africa, living in Cape Town, and has recently returned to Penang to work on his second book.