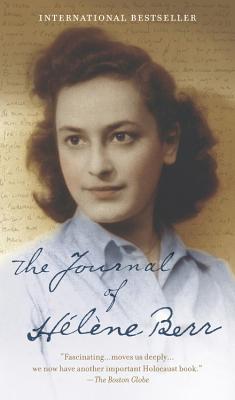 The Journal of Hélène Berr
Paperback

* Individual store prices may vary.
Description
Not since The Diary of Anne Frank has there been such a book as this: The joyful but ultimately heartbreaking journal of a young Jewish woman in occupied Paris, now being published for the first time, 63 years after her death in a Nazi concentration camp.
On April 7, 1942, Hélène Berr, a 21-year-old Jewish student of English literature at the Sorbonne, took up her pen and started to keep a journal, writing with verve and style about her everyday life in Paris — about her studies, her friends, her growing affection for the "boy with the grey eyes," about the sun in the dewdrops, and about the effect of the growing restrictions imposed by France's Nazi occupiers. Berr brought a keen literary sensibility to her writing, a talent that renders the story it relates all the more rich, all the more heartbreaking.
The first day Berr has to wear the yellow star on her coat, she writes, "I held my head high and looked people so straight in the eye they turned away. But it's hard." More, many more, humiliations were to follow, which she records, now with a view to posterity. She wants the journal to go to her fiancé, who has enrolled with the Free French Forces, as she knows she may not live much longer. She was right. The final entry is dated February 15, 1944, and ends with the chilling words: "Horror! Horror! Horror!" Berr and her family were arrested three weeks later. She went — as was discovered later — on the death march from Auschwitz to Bergen-Belsen, where she died of typhus in April 1945, within a month of Anne Frank and just days before the liberation of the camp.
The journal did eventually reach her fiancé, and for over fifty years it was kept private. In 2002, it was donated to the Memorial of the Shoah in Paris. Before it was first published in France in January 2008, translation rights had already been sold for twelve languages.
Weinstein Books, 9781602860940, 304pp.
Publication Date: November 3, 2009