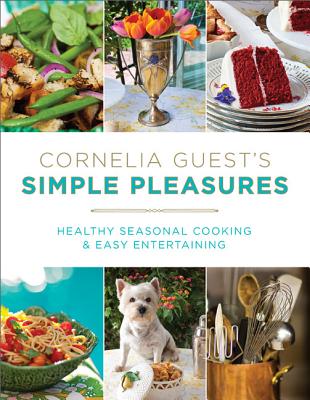 Cornelia Guest's Simple Pleasures
Healthy Seasonal Cooking and Easy Entertaining
Hardcover

* Individual store prices may vary.
Description
Daughter of fashion icon C. Z. Guest and Winston Frederick Churchill Guest, polo champion and heir to the Phipps steel fortune, Cornelia Guest resisted eating animal products from childhood because of her passion for "critters." When her mother became ill, her research compelled her to take the leap to eat cruelty-free.
In Cornelia Guest's Simple Pleasures, she reveals the secrets of understated elegance she learned from her parents and the family's extraordinary friends. Her favorite simple recipes are so delicious, even the most fervent carnivores do not miss the meat, and her tips on entertaining take the stress out of any event. Her ulterior motive is to inspire readers to have fun experimenting with healthy alternatives and to change the way they think about food.
She shows readers how to incorporate affordable, cruelty-free eating into their daily lives and how to serve that wholesome food to friends. Organized by season, each section begins with a luscious meal—a light spring lunch of chilled asparagus soup and quinoa salad, an alfresco summer dinner of veggie carpaccio and stuffed squash blossoms, a fall breakfast buffet of pecan waffles, faux buttermilk pancakes, and raspberry muffins, and a cozy winter's dinner of shepherd's pie with a chocolate tart for dessert. Each season contains recipes for beverages, soups, salads, pasta, side dishes, main courses, and an abundance of desserts that everyone will love. Special sections feature recipes for grains, greens, and beans. Her favorite chefs, doctors, a veterinarian, and other health experts have contributed sidebars with tips, advice, and eye-opening information.
Dismissing fussy food and pretention, she believes the key to entertaining well is simplicity. Cornelia Guest's Simple Pleasures is filled with advice on how to set a lively and original table, how to bring nature inside, even how to stay calm in the face of entertaining disasters. She shows how a little thought and effort makes it a snap to create a relaxed, warm atmosphere and fabulous food free of animal products that will not only please family and friends but will also allow you to enjoy your own party.
Richly illustrated with photographs of personal memorabilia and of Templeton, her legendary home, the book captures the feeling of a well-lived life. Cheerful, colorful, and unpretentious, Simple Pleasures will give readers all they need to know to cook in the most nutritious way possible and to serve it up with great style.
Praise For Cornelia Guest's Simple Pleasures: Healthy Seasonal Cooking and Easy Entertaining…
Rory Freedman, co-author of #1 New York Times bestseller Skinny Bitch
"Not only does Cornelia Guest make us feel welcome in her high society world, she enables us to re-create the same understated elegance she invokes for her affluent guests. Who knew being fancy could be so simple?"
Dean Ornish, M.D., Founder and President of Preventative Medicine Research Institute
"Cornelia Guest shows with style and grace how beautiful and delicious the most healthy way of eating can be. What matters most is not just how long we live, but also how well we live. Now, we can do both. Highly recommended!"
Mark Badgley and James Mischka, Badgley Mischka
"Cornelia Guest's great sense of style shines in everything she does. Cornelia Guest's Simple Pleasures reveals the secrets of her entertaining brilliance and is filled with her delicious recipes. We have tasted many and can definitely say that her vegan food is fantastic."
—
-
Hachette Books, 9781602861626, 256pp.
Publication Date: June 12, 2012
About the Author
Cornelia Guest is a longtime animal rights activist, philanthropist, and businesswoman. In 2009, she founded Cornelia Guest Events and Cornelia Guest Cookies, and she is currently launching a vegan product line that includes handbags, wallets, and dog accessories. She lives in New York City.
or
Not Currently Available for Direct Purchase