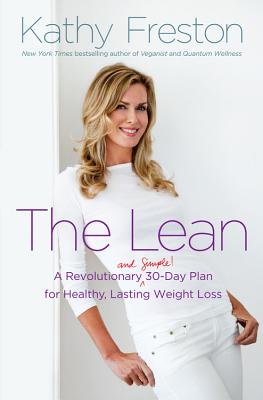 The Lean (Hardcover)
A Revolutionary (and Simple!) 30-Day Plan for Healthy, Lasting Weight Loss
Hachette Books, 9781602861732, 352pp.
Publication Date: March 27, 2012
Other Editions of This Title:
Digital Audiobook (3/26/2012)
Paperback (3/12/2013)
Compact Disc (3/27/2012)
Other (1/1/2013)
MP3 CD (3/27/2012)
Compact Disc (3/27/2012)
* Individual store prices may vary.
Description
If you've ever dieted, you've undoubtedly worked very hard to achieve results--only to experience the disappointment of having the pounds creep back on. But now wellness expert Kathy Freston lets readers in on her secret: losing weight doesn't have to be difficult, and it can last. With this book she shares the powerful concept of The Lean--a radically effective approach to positive change--with a practical 30-day plan to transform your health and jump-start weight loss in the most gentle, easy, and automatic way possible.
"Leaning in" is about setting an intention for what you want, weight- and health-wise, and then nudging yourself ever so gently in that direction, even if getting there seems impossible. It's about choosing to eat foods that are delicious, filling, and supportive of your goals.
Each day of the scientifically based, vegan-friendly Lean plan, Kathy shows how to make and commit to small diet and lifestyle changes that, over time, yield unexpectedly significant results--something as simple as swapping in nondairy milk for cow's milk, eating an apple a day, or having an afternoon power shake. These changes propel you almost effortlessly into a forward momentum of ever more healthy choices, and work together to bolster your progress. There are only two rules:
1. All you need is the willingness to take just one step.
2. As you add the healthier foods to your diet, eat the new foods first.
By gradually adding in these nutrient-dense and fiber-rich foods, you'll crowd out the problem foods, feel fuller for longer, and simply stop feeling cravings. On Kathy's Lean plan, readers can experience sustained, healthy, and permanent weight loss of 1-3 pounds per week--plus increased energy, improved digestion, clearer skin, and renewed purpose. Complete with exercises, recipes, and powerful testimonials, The Lean offers not only a truly leaner frame, but also the little push we all need to get on the path to lasting change.
About the Author
Kathy Freston is a bestselling author with a focus on healthy eating and conscious living. Her instant New York Times bestsellers include Veganist, Quantum Wellness, and The One. She has appeared frequently on national television, including Oprah, The Dr. Oz Show, Ellen, Good Morning America, The View, The Martha Stewart Show, and Extra, and also on OWN. She lives in Los Angeles.
Praise For The Lean: A Revolutionary (and Simple!) 30-Day Plan for Healthy, Lasting Weight Loss…
Andrew Weil, MD, New York Times bestselling author of Spontaneous Happiness
"Kathy Freston has been a steady source of reliable, practical advice about health. In The Lean,she presents a sensible plan to jump-start weight loss and improve well-being. I recommend this book."
Neal D. Barnard, MD, President, Physicians Committee for Responsible Medicine and Adjunct Associate Professor of Medicine, George Washington University School of Medicine
"Abundant scientific research has convincingly shown that the approach Kathy Freston brings is the most effective way to reach your goal weight and stay there, and to enjoy the very best of health. The Lean puts this breakthrough into practice with a simple, step-by-step, can't-fail guide. Kathy's guidance is easy to understand, beautifully structured, and so encouraging that you'll reach your goals more easily than you could ever have imagined. Our clinical studies and those of other research teams have shown how powerful a diet change can be. The Lean now makes it available to everyone."
or
Not Currently Available for Direct Purchase