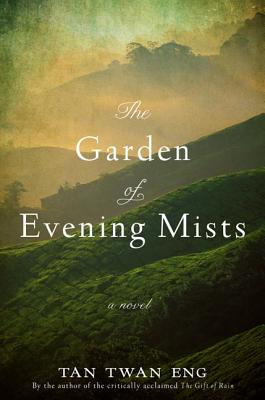 The Garden of Evening Mists
Paperback

* Individual store prices may vary.
Other Editions of This Title:
Digital Audiobook (10/25/2012)
Paperback (11/1/2011)
Description
Winner of the Man Asian Literary Prize, an "elegant and haunting novel of war, art and memory" (The Independent) from the critically acclaimed author of The Gift of Rain.Malaya, 1951. Yun Ling Teoh, the scarred lone survivor of a brutal Japanese wartime camp, seeks solace among the jungle-fringed tea plantations of Cameron Highlands. There she discovers Yugiri, the only Japanese garden in Malaya, and its owner and creator, the enigmatic Aritomo, exiled former gardener of the emperor of Japan. Despite her hatred of the Japanese, Yun Ling seeks to engage Aritomo to create a garden in memory of her sister, who died in the camp. Aritomo refuses but agrees to accept Yun Ling as his apprentice "until the monsoon comes." Then she can design a garden for herself. As the months pass, Yun Ling finds herself intimately drawn to the gardener and his art, while all around them a communist guerilla war rages. But the Garden of Evening Mists remains a place of mystery. Who is Aritomo and how did he come to leave Japan? And is the real story of how Yun Ling managed to survive the war perhaps the darkest secret of all?
Praise For The Garden of Evening Mists…
The Independent
"The Garden of Evening Mists offers action-packed, end-of-empire storytelling in the vein of Tan's compatriot Tash Aw. His fictional garden cultivates formal harmony –but also undermines it. It unmasks sophisticated artistry as a partner of pain and lies. This duality invests the novel with a climate of doubt; a mood – as with Aritomo's creation – of "tension and possibility". Its beauty never comes to rest."
Boyd Tonkin, The Independent (UK)
"A rising star from Malaysia . . . Tan writes with breath-catching poise and grace. [
The Garden of Evening Mists
is a novel of] linguistic refinement and searching intelligence. . . . But for all its mission to 'capture stillness on paper'. . .
The Garden of Evening Mists
also offers action-packed, end-of-empire storytelling."
Dominique Browning, The New York Times Book Review
"[A] strong quiet novel [of] eloquent mystery."
Booklist

"The unexpected relationship between a war-scarred woman and an exiled gardener leads to a journey through remorse to a kind of peace. After a notable debut, Eng (
The Gift of Rain
, 2008) returns to the landscape of his origins with a poetic, compassionate, sorrowful novel set in the aftermath of World War II in Malaya…Grace and empathy infuse this melancholy landscape of complex loyalties enfolded by brutal history, creating a novel of peculiar, mysterious, tragic beauty." –
Kirkus Reviews
, STARRED REVIEW"As intricately designed as a Japanese garden, this deceptively quiet novel resonates with the power to inspire a variety of passionate emotions…A haunting novel certain to stay with the reader long after the book is closed." 
Library Journal, STARRED REVIEW

"Like his debut,
The Gift of Rain
(2007), Tan's second novel is exquisite…Tan triumphs again, entwining the redemptive power of storytelling with the elusive search for truth, all the while juxtaposing Japan's inhumane war history with glorious moments of Japanese art and philosophy. All readers in search of spectacular writing will not be disappointed."
Philadelphia Inquirer

"Beautifully written...Eng is quite simply one of the best novelists writing today." 
Hachette Books, 9781602861800, 352pp.
Publication Date: September 4, 2012
About the Author
Tan Twan Eng was born in Penang, Malaysia, but lived in various places in Malaysia as a child. He worked as an Intellectual Property lawyer before resigning from his position to write his novel, The Gift of Rain. His second novel, The Garden of Evening Mists, will be published in the United Kingdom in February 2012. The Gift of Rain was nominated for the Man Booker Prize, and has been translated into Italian, Spanish, Greek, Romanian, Czech and Serbian. Tan Twan Eng lives in Cape Town.
The author introduces Yun Ling as she is entering
retirement, and slowly reveals the key experiences that
have shaped her life. What was your initial impression
of the main character and how did it change as the novel
progressed?
As a research clerk in the war crimes tribunal directly after the war,
Yun Ling is intimately involved in the national process of punishment
and healing after the horrors of the Japanese invasion. Yet, she is hardly
healed, and she has her own motives for this work. Can the Japanese
crimes be forgiven?
Violence is a frequent presence in Yun Ling's life, from the labor camp
to the CT invasion to the destruction of her memory. How does she
cope with the trauma of these events? Is she successful?
Not just violence, but sexual violence is a factor in the novel. How
did you grapple with Yun Hong's experience as one of the "comfort
women" in the camp and the shame she felt as a result?
Intertwined with the traumatic episodes, art – including literature,
painting, and, of course, garden design – appears constantly in
the book. Consider some key examples (i.e., Yun Hong's painting,
the supposed Golden Lily hoard, Yugiri itself) and discuss their
importance to the novel.
Aritomo's final artistic work is not a garden but a horimono, a tattoo
covering much of Yun Ling's battered body. What is the significance of
this act to their relationship and to the novel?
There is a constant struggle between memory and forgetting in
the novel. How does the experience of the camp change Yun Ling's
relationship to memory?
Frederik and Yun Ling have a brief encounter when she first arrives at
Majuba estate, and he makes it clear that he has strong feelings for her
throughout the book. Why do you think Yun Ling chooses Aritomo
over Frederik?
Why does Yun Ling, after all her searching and striving, choose not to
use the possible clues from her horimono to try and locate her camp?
Is this a hopeful novel?