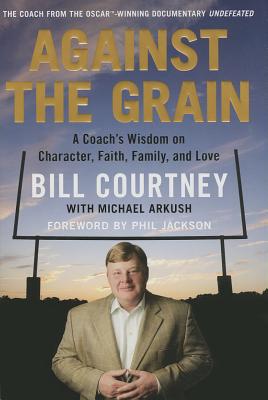 Against the Grain
A Coach's Wisdom on Character, Faith, Family, and Love
Hardcover

* Individual store prices may vary.
Other Editions of This Title:
Digital Audiobook (5/31/2014)
Paperback (10/6/2015)
MP3 CD (6/1/2014)
Compact Disc (6/1/2014)
Description
In Against the Grain, Bill Courtney shares his convictions on the fundamental tenets of character, commitment, service, leadership, civility, and others that, in his decades of success as an entrepreneur and educator, have proven to be the keys to a winning and meaningful life and career. Each chapter tells the story of one of these tenets through compelling anecdotes of the colorful characters in Bill's life, leading to a deeper understand of the meaning of each and how to employee these fundamentals in all aspects of one's life. Against the Grain intertwines inspiring and thought-provoking anecdotes, lessons, and amazing real life examples. Bill's passion for us all to reconsider our own approach to life and constantly improve upon it comes across on every page.
Praise For Against the Grain: A Coach's Wisdom on Character, Faith, Family, and Love…
John Feinstein, sportswriter and bestselling author of A Good Walk Spoiled
"Bill Courtney has nothing to prove to anyone as a football coach, as a businessman and as a human being. But if you want proof that his life has been fascinating, Against The Grain gives you all need. Enjoy the ride."

Praise for Bill Courtney
Yogi Roth, Former QB coach at USC and New York Times bestselling co-author of Win Forever and From PA to LA
"The role for a coach is often defined by wins and losses. Coach Courtney is a unique coach who understands that his role is not about a trophy, but about developing the next generation of leaders across the globe.Against The Grain speaks directly to that audience, both young and old, and is a must read for anyone who strives to impact others."

Pete Carroll, Head Coach of Superbowl XLVIII Champions Seattle Seahawks and New York Times bestselling author
"Coach Courtney is an ultimate competitor with a passion for excellence. He continues to be an inspiration to coaches and players all around the football world – from high school to college to the pros – and also those from off the gridiron as well."

Esquire
"The star of a new documentary is a leader for our times."

Praise for Against the Grain
Phil Jackson, NBA Coach and New York Times bestselling author of Eleven Rings, from the foreword
"His success serves as a moving example of what can happen when people in authority care about others - not just about winning the next game or securing the next client."

Ron Shelton, director of Bull Durham
"The old fashioned values of Coach Courtney come across as revolutionary in the cynical contemporary world, full of detail and anecdotes worthy of a Southern Preacher, but without the guilt."

Jeanie Buss, President of the LA Lakers
"Sports is not the only realm where coaching counts. Bill Courtney has written a book that demonstrates to the beaten down executive that by peeling down to the values of character, commitment and leadership you can find your way back to a successful business and a meaningful life."

Pam Shriver, International Tennis Hall of Fame & ESPN Broadcaster
"I was as inspired, especially by the chapter on perseverance. Everyone faces adversity and if you persevere through the tough times, you will become resilient which will lead to success. "
Hachette Books, 9781602862241, 240pp.
Publication Date: May 13, 2014
About the Author
Bill Courtney is a volunteer football coach and the owner and operator of Classic American Hardwoods, a 45 million lumber company and sitting board member of the prestigious Society of Entrepreneurs. He is a sought-after motivational speaker and consultant for organizations such as Nike, Pepsico, the USOC Paralympic Leadership Conference, the FedEx Leadership Live Conference, and the Fellowship of Christian Athletes. Courtney lives with his wife and four children in Memphis, Tennessee.

Michael Arkush has written twelve books, including Rush! and The Fight of The Century. He and his wife, Pauletta Walsh, live in Oak View, California.