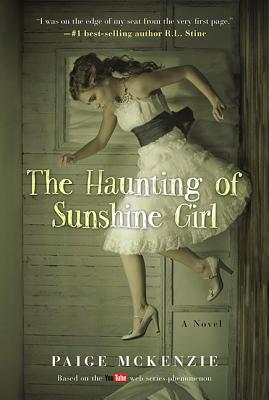 The Haunting of Sunshine Girl
Book One (The Haunting of Sunshine Girl Series #1)
Hardcover

* Individual store prices may vary.
Other Editions of This Title:
Digital Audiobook (3/23/2015)
Paperback (2/2/2016)
Prebound (2/2/2016)
Description
A New York Times bestseller

The Haunting of Sunshine Girl,in active development for television by The Weinstein Company, a hit paranomal YA series based on the wildly popular YouTube channel about an "adorkable" teenager living in a haunted house.

Shortly after her sixteenth birthday, Sunshine Griffith and her mother Kat move from sunny Austin, Texas, to the rain-drenched town of Ridgemont, Washington. Though Sunshine is adopted, she and her mother have always been close, sharing a special bond filled with laughter and inside jokes. But from the moment they arrive, Sunshine feels her world darken with an eeriness she cannot place. And even if Kat doesn't recognize it, Sunshine knows that something about their new house is just ... creepy.

In the days that follow, things only get stranger. Sunshine is followed around the house by an icy breeze, phantom wind slams her bedroom door shut, and eventually, the laughter Sunshine hears on her first night evolves into sobs. She can hardly believe it, but as the spirits haunting her house become more frightening-and it becomes clear that Kat is in danger-Sunshine must accept what she is, pass the test before her, and save her mother from a fate worse than death.
Praise For The Haunting of Sunshine Girl: Book One (The Haunting of Sunshine Girl Series #1)…
"Sunshine's adventure is filled with bumps in the night and shadowy figures, alluding to a larger mystery and larger world that has plenty to offer imaginative readers who grew up on
Goosebumps
and the like. Suspenseful, exciting and endlessly entertaining."
—
Kirkus Review
"Sunshine's story started as a YouTube series, and this creepy, suspenseful story condenses the plot of the original and offers a more polished voice than the videos. Existing fans won't be the only ones eager for more of this strong but vulnerable heroine just awakening to her potential."
—
Booklist
(Grades 7–10)
"This sometimes frightening tale and series opener is based on a YouTube channel of the same name, so transmedia fans can enjoy both formats. Readers who appreciated Holly Black's
Doll Bones
(2013) or Cassandra Clare's
City of Bones
series ... should consider picking up this creepy debut."
— Julie Zimmerman,
School Library Journal
"The plot moves along smoothly and rapidly, and the writing is graceful and wonderfully polished... It's hard not to finish
The Haunting of Sunshine Girl.
"
— Lev Grossman,
Time Magazine
—
-
"When teen prodigy Paige McKenzie sets her mind to do something, she does it big time. 200,000 active YouTube subscribers on her site and over 100 million views, for instance. Not bad for a kid who still gets carded and can't vote. So when she decided to write a scary book, she nailed that one too. By the end of the first chapter I turned on all the lights in the house, even though it was noon. And it wasn't long before I'd retreated into that last-resort safe room buried deep beneath my brain's Fear Center, praying the lock would hold. No such luck. Before I knew McKenzie was out there she'd hacked the door and let all manner of frightening things slither in to get me. ... Things that go bump in the night are afraid to read this book. Things that lurk beneath the bed cry for their mothers by page ten. McKenzie's skill telling the story of a young girl who inadvertently moves into a haunted house with her clueless mother is a thing that slips up behind and puts a cold white hand right down your spine and just won't let go. The book is called
The Haunting of Sunshine Girl
. Read it if you dare, but don't say I didn't warn you."
— Wes Craven, Filmmaker—
-
"The Haunting of Sunshine Girl starts with mysterious ghostly laughter late one night. The laughter quickly turns to horror. It seems Sunshine Griffith has moved into a house haunted by many evil spirits. Trust me - these spirits will haunt YOU, too. I was on the edge of my seat from the very first page."
— R.L. Stine, author of Goosebumps and Fear Street

"Enthralling! Shivers of anticipation creep up and terrifying, ancient revelations come thick and fast. Sunshine Girl is a winner for fans of teen horror!"
— Anya Allyn, author of The Dark Carousel series—-
Hachette Books, 9781602862722, 304pp.
Publication Date: March 24, 2015
About the Author
Paige McKenzie, the irresistible face of The Haunting of Sunshine Girl, began playing Sunshine as a high school junior. Today, the YouTube series boasts a viewership over 230 million views and has also been adapted into film.
In The Haunting of Sunshine Girl, the main character, Sunshine Griffith, learns of her luiseach identity soon after her sixteenth birthday. Why do the authors, Paige McKenzie and Alyssa Sheinmel, choose sixteen for this moment of discovery in the luiseach world? Can this be paralleled with "sweet sixteen" representing a milestone in human adolescent coming-of-age?
Throughout most of The Haunting of Sunshine Girl, we experience the story from Sunshine's point of view. We see what she sees and experience what she experiences. However, throughout the novel there are brief interludes told from the point-of-view of an omniscient unidentified narrator, who's later revealed to be Sunshine's mentor. Why do the authors provide us with the mentor's thoughts and reactions? What do these passages show us, and how do you feel about the situations he manipulates Sunshine into and her confused reactions to her new reality?
Do you believe in ghosts? Why or why not?
Nolan is the first boy Sunshine's been attracted to, in both looks and personality, but she feels physically sick whenever she touches him. The reader assumes they can never be together as a couple for this reason, and yet, their connection seems powerful. What does this say about love? Do you think you can fall in love with someone you can never touch? Do you think Sunshine would be better off separating herself from Nolan if they can never be together?
Towards the end of the book, Victoria tells Sunshine she gave up her luiseach powers to help save her daughter's spirit. Sunshine decides she'll go through her luiseach training and then give up her powers too. Victoria indicates it's not an easy path, but Sunshine remains committed to the idea that she won't be a luiseach forever either. Does this indicate that Sunshine hasn't fully grasped the scope of her responsibilities in helping save luiseach race? And where do you think Victoria goes after she "dies" in the hospital?
At the start of the book, Sunshine moves from the only home she's ever known in Austin, Texas, to a new town in Washington state. Even if she hadn't moved into a haunted house, this would have been an enormous change. What is the biggest life change you've ever faced? How did you overcome it? Do you think change is a good thing?
Sunshine's former photography teacher in Texas told her one could capture things on film that were impossible to detect with the naked eye. Sunshine then successfully- with her Nikon camera- records activity of the ghost in her house, but her mother Kat isn't able to see the images. Similarly, Nolan and Sunshine go back to Professor Jones's office to ask him more questions, but all evidence of him has vanished. How does the theme of what's real versus what appears to be real play throughout the novel? Is it also symbolic of how humans interact with luiseach every day, but they have no awareness this is happening because they can't see them?
Sunshine says that she and her mother are really close, and she's willing to do just about anything to save her mother's life – even if it means accepting the fact that she's a luiseach. Do you think Sunshine and Kat will remain close now that Sunshine has learned she isn't exactly human? Do you think she should tell Kat what she really is? Why or why not?
Ashley has been Sunshine's best friend since they were little. Throughout the novel, Sunshine senses she and Ashley are drifting apart in their phone and text conversations. Sunshine thinks Ashley would never be able to grasp what's happening to her, whereas Nolan is right there and can understand it all. Is Sunshine being fair by writing Ashley off or is she distancing herself as a way of protecting herself now that she knows she's not human? Do you think Sunshine and Ashley can still be friends?
How do you think Sunshine will react to her mentor's appearance after the close of the book? Will she be excited to finally meet him, or will she be unable to forgive him for putting her mother's life at risk – or both?
As Sunshine prepares to battle the water demon in order to save both her mother and Anna's spirit, Victoria hands Sunshine a rusty old knife and says it "manifests itself differently for each of us, based on our strength and our needs—and based on the strength and power of the demon we're using it against, of course." The knife consequently turns into a torch during Sunshine's battle and the water demon is destroyed. What else might the weapon have become to help Sunshine defeat the water demon? Do you think Sunshine will need to use this weapon again as the series continues?