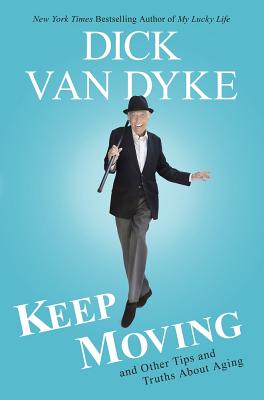 Keep Moving
And Other Tips and Truths About Aging
Hardcover

* Individual store prices may vary.
Other Editions of This Title:
Digital Audiobook (10/12/2015)
Paperback (10/11/2016)
Hardcover, Large Print (3/2/2016)
Compact Disc (10/13/2015)
MP3 CD (10/13/2015)
Compact Disc (10/13/2015)
Description
Show-business legend Dick Van Dyke is living proof that life does get better the longer you live it. Who better to offer instruction, advice, and humor than someone who's entering his ninth decade with a jaunty two-step? Van Dyke isn't just a born song-and-dance man; his irrepressible belief in embracing the moment and unleashing his inner child has proved to be the ultimate elixir of youth. When he was injured during the filming of Chitty Chitty Bang Bang, his doctor warned him he'd be using a walker within seven years, but Dick performed a soft shoe right there and never looked back.

In Keep Moving, Dick Van Dyke offers his own playful anecdotes and advice, as well as insights from his brother, actor Jerry Van Dyke; his friend and creator of The Dick Van Dyke Show, Carl Reiner; and other spirited friends and family. Whether he's describing the pleasure he takes in his habitual visits to the grocery store; how he met his late-in-life-love Arlene; or how he sprung back, livelier than ever, from a near-death experience, Dick's optimistic outlook is an invigorating tonic for anyone who needs a reminder that life should be lived with enthusiasm despite what the calendar says.

"You don't have to act your age. You don't even have to feel it. And if it does attempt to elbow its way into your life, you do not have to pay attention. If I am out shopping and hear music playing in a store, I start to dance. If I want to sing, I sing. I read books and get excited about new ideas. I enjoy myself. I don't think about the way I am supposed to act at my age - or at any age. As far as I know, there is no manual for old age. There is no test you have to pass. There is no way you have to behave. There is no such thing as 'age appropriate.'

When people ask my secret to staying youthful at an age when getting up and down from your chair on your own is considered an accomplishment, you know what I tell them? 'Keep moving.'"

- Dick Van Dyke
Praise For Keep Moving: And Other Tips and Truths About Aging…
"Dick Van Dyke has been in our collective consciousness a very long time, from Chitty Chitty Bang Bang and Mary Poppins, to Diagnosis: Murder and The Dick Van Dyke Show. What's the secret to staying young? The popular movie and television stars [says] it's about attitude and staying active…and has a new book to prove it." – NPR Weekend Edition

"In this follow-up to his memoir, My Lucky Life In and Out of Show Business (2011), song-and-dance man Van Dyke relishes his approaching 90th birthday and shares some tips for readers on reaching and enjoying that venerable age…this is determinedly upbeat stuff." – Kirkus Reviews

"Multitalented…[Dick Van Dyke] shares his vast store of knowledge in a memoir that offers tips and truths about…[how to] make living an achievement." – The Sacramento Bee

Hachette Books, 9781602862968, 264pp.
Publication Date: October 13, 2015
About the Author
Dick Van Dyke, the star of Mary Poppins, Chitty Chitty Bang Bang, and The Dick Van Dyke Show, has received five Emmy awards, a Tony, and a Grammy. In 2013, he received the Screen Actors Guild Life Achievement Award. He is also the New York Times bestselling author of My Lucky Life In and Out of Show Business. He lives in Malibu, California.
1. Even though Dick Van Dyke is nearly ninety years old, he says he does not act or even feel old. How do you think a positive outlook can affect your behavior? Do you agree with Dick that there is no need to "act your age"?
2. Dick speaks briefly about how his father was "genetically poised to live a long life," and yet dies at seventy-six. How do you think his father's outlook differed from Dick's? How is his father's death revisited when Dick is fighting for his own life? Which of Dick's other family members influenced him profoundly?
3. Dick has described himself as a "worrier," but in his older years, he says that his worrying has been a "waste of time." Why should older people worry less, in Dick's opinion?
4. Dick and his brother Jerry have both followed similar paths in life, yet Jerry has a more pessimistic attitude towards aging. Consider Jerry's thoughts on the dog Rocky's health. In what way is Jerry's attitude towards Rocky ironic?
5. Dick reveals that he has been asked to perform several times on "Dancing with The Stars." Why does he refuse?
6. Which tips in this book can be adapted universally for healthy aging? Does Dick provide any advice that would benefit only a few?
7. How do you think this book will benefit an aging demographic? Do you think Dick's thoughts and advice on aging will help younger readers prepare for old age?
8. How did the philosophy of "Keep Moving" influence Dick's life following Michelle's death?
9. Dick's lighthearted narrative takes a more serious term when he speaks about his encounters with ageism. Have you seen ageism elsewhere in literature? Has there been a time in your life where you encountered ageism?
10. Having been born in the 1920s, Dick has seen a great deal of history unfold. How does his connection to history influence his conviction that the young should communicate more with the old?
Coverage from NPR
or
Not Currently Available for Direct Purchase