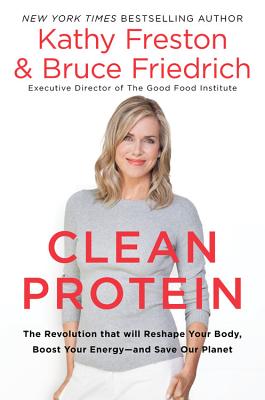 Clean Protein: The Revolution That Will Reshape Your Body, Boost Your Energy--And Save Our Planet (Hardcover)
The Revolution That Will Reshape Your Body, Boost Your Energy--And Save Our Planet
Weinstein Books, 9781602863323, 288pp.
Publication Date: January 2, 2018
Description
New York Times bestselling author and vegan lifestyle expert Kathy Freston and co-author Bruce Friedrich offer a research-based self-help guide that cuts through accepted truths about protein and offers surprising new ways to include the essential nutrient in your diet. We are a culture obsessed with protein. But how much of it do we really need? And what kind of protein? What does a healthy diet really look like? In Clean Protein, four-time New York Times bestselling author Kathy Freston and Bruce Friedrich, Executive Director of the Good Food Institute, bust myths about both animal and plant-based proteins and give readers a roadmap for how to kick start a clean protein lifestyle.
Complete with cutting-edge research, Clean Protein is packed with information and guidance on how to "lean in" to better choices, as Freston and Friedrich provide a practical solution to excess weight and chronic health issues. The authors cite peer-reviewed scientific studies, medical experts, and talk to the clean food pioneers to lay the groundwork of what is likely to become a food revolution that will be talked about for decades. The book offers an easy-to-follow plan, complete with recipes and tips on how to make the shift away from food that's making us - and the planet - sick. Clean Protein packs a powerful punch to many of today's problems, and it's poised to shake up the food world, giving control of personal health and wellbeing back to the individual.

About the Author
Kathy Freston is the author of eight books, including the New York Times bestsellers The Lean and Quantum Wellness. Kathy appears frequently on national television, including Charlie Rose, Ellen, Dr. Oz, and Good Morning America. Her work has been featured in Vanity Fair, Harper's Bazaar, Self, W, and Fitness. She has been a regular contributor to The Huffington Post. Bruce Friedrich is the Co-Founder and Executive Director of The Good Food Institute, a nonprofit organization that promotes healthy and sustainable alternatives to our industrialized food system. Bruce has appeared many times on CNN, MSNBC, and Fox News, and has published commentaries about food policy in the Wall Street Journal, Washington Post, Los Angeles Times, USA Today, and other news publications.
Advertisement