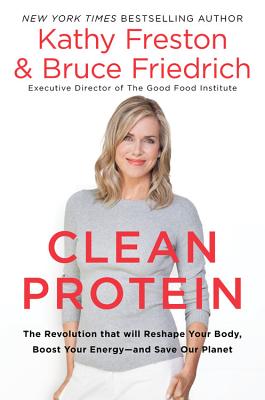 Clean Protein (Hardcover)
The Revolution that Will Reshape Your Body, Boost Your Energy-and Save Our Planet
Hachette Books, 9781602863323, 288pp.
Publication Date: January 2, 2018
Other Editions of This Title:
Digital Audiobook (1/1/2018)
Compact Disc (1/2/2018)
Compact Disc (1/2/2018)
Pre-Recorded Audio Player (3/2/2018)
* Individual store prices may vary.
Description
Join the CLEAN PROTEIN revolution and lose weight, feel stronger, and live longer.

Food and wellness experts Kathy Freston and Bruce Friedrich have spent years researching the future of protein. They've talked to the food pioneers and the nutrition scientists, and now they've distilled what they've learned into a strength-building plan poised to reshape your body and change your world.

Complete with delicious recipes and a detailed guide to food planning, Clean Protein explains everything you need to know in order to get lean, gain energy, and stay mentally sharp. You'll finally understand in simple terms why protein is essential, how much you should get, and where to find the best sources of it.

Clean Protein is a powerful solution to excess weight and chronic health issues, and it's a cultural revolution that will be talked about for decades.


About the Author
Kathy Freston is the author of eight books, including the New York Times bestsellers The Lean and Quantum Wellness. Kathy appears frequently on national television, including Charlie Rose, Ellen, Dr. Oz, and Good Morning America. Her work has been featured in Vanity Fair, Harper's Bazaar, Self, W, and Fitness. She has been a regular contributor to The Huffington Post.

Bruce Friedrich is the Co-Founder and Executive Director of The Good Food Institute, a nonprofit organization that promotes healthy and sustainable alternatives to our industrialized food system. Bruce has appeared many times on CNN, MSNBC, and Fox News, and has published commentaries about food policy in the Wall Street Journal, Washington Post, Los Angeles Times, USA Today, and other news publications.

Praise For Clean Protein: The Revolution that Will Reshape Your Body, Boost Your Energy-and Save Our Planet…
Praise for Clean Protein:


"This is the right book at the right time for a nation obsessed with protein. Most of what we think we know about protein is misguided or just plain wrong. Kathy Freston and Bruce Friedrich have done a superb job of marshaling in the latest research to dispel myths and reveal the evidence-based truths about how much protein we need, and the difference between bad and good protein. Their conversational tone whisks the reader through compelling science to a clear prescriptive towards a healthier you and a better world-through clean protein."—Dan Buettner, National Geographic Fellow and New York Times Bestselling author of the Blue Zones books 

"In an accessible and friendly manner, Kathy and Bruce provide a step-by-step guide to a healthier and happier you. I enjoyed reading this no-nonsense guilt-free guide to where and how we should all be getting our protein, and you will too."—Dr. Dean Ornish, president and founder of the nonprofit Preventive Medicine Research Institute and bestselling author of Dr. Dean Ornish's Program for Reversing Heart Disease, Eat More, Weigh Less and

"My favorite part about this book is its realism; Kathy and Bruce invite everyone into their clean protein vision, starting with Big Food, who Kathy and Bruce see as key partners in a necessary global dietary shift. And Clean Protein delivers on its subtitle. If you read this book and implement its suggestions, you are likely to have more energy, maintain a healthier weight, and live a longer, happier life!"—Michael Greger, M.D., founder of NutritionFacts.org and author of the New York Times bestseller How Not To Die: Discover the Foods Scientifically Proven to Prevent and Reverse Disease

"Read this book! Clean protein is an idea whose time has come, and Kathy and Bruce do a superb job of laying out both why and how to make clean protein a part of your life. Their advice is both great for your health and great for the world!"—John Mackey, founder and CEO of Whole Foods and author of Conscious Capitalism: Liberating the Heroic Spirit of Business

"Confusion about protein is a crazy issue. We overeat, waste too much and still can't conquer hunger. Freston and Friedrich tell us exactly what kind of protein to eat and how to make it taste delicious."—Andrew Zimmern, host of Bizarre Foods with Andrew Zimmern and author of Andrew Zimmern's Field Guide to Exceptionally Weird, Wild, and Wonderful Foods

"Kathy Freston and Bruce Friedrich have written a powerful and compelling book that will help to catalyze the type of food revolution that is so desperately needed at this point in our world's history. The book is very useful on a personal level, clearly and concisely providing not only the philosophical, scientific and economic arguments for clean protein but also all of the ingredients to allow individuals to easily incorporate clean protein concepts into their daily lives. Physicians and veterinarians should be among those leading the charge given the enormous implications for improving human and nonhuman health, and for helping to secure the ultimate survival of our planet and all of its inhabitants."
—David O. Wiebers, M.D. Emeritus Professor of Neurology, Mayo Clinic; Chair, Board of Directors, The Humane Society Legislative Fund

"Perhaps no aspect of diet and health has been more mythologized, misrepresented, and misconstrued than protein. Clean Protein cuts through myth and misconception alike, like a hot knife through almond butter. This book could scarcely be more needed, important, and timely. Reader, eater-meet crucial reality check!"
—David L. Katz, MD, MPH, Founder, True Health Initiative, author of The Truth about Food

"[Kathy and Bruce have] teamed up in Clean Protein to tackle the world's favorite macro-nutrient, in an intelligent, non-confrontational manner. Give it to your family members who are protein-obsessed for a holiday gift."
—Vegan Health & Fitness

"Protein is power. So naturally, it should be part of a kick-ass nutrition plan. But where do you start? More importantly, how do you stick to it? This book is your blueprint for success."
—Bella Magazine

"A strength-building plan poised to reshape your body and change your world... Everything you need to know in order to get lean, gain energy, and stay mentally sharp."
—Gambit Magazine

Praise for Kathy Freston's previous books:


"I can't tell you how much [QUANTUM WELLNESS] changed my life for the better."
—Ellen DeGeneres

"Kathy Freston has been a real source of reliable, practical advice about health. In The Lean, she presents a sensible plan to jump-start weight loss and improve well-being. I recommend this book."
—Andrew Weil, MD

"Abundant scientific research has convincingly shown that the approach Kathy Freston brings is the most effective way to reach your goal weight and stay there, and to enjoy the very best of health. The Lean puts this breakthrough into practice with a simple, step-by-step, can't-fail guide. Kathy's guidance is easy to understand, beautifully structured, and so encouraging that you'll reach your goals more easily than you could ever have imagined. Our clinical studies and those of other research teams have shown how powerful a diet change can be. The Lean now makes it available to everyone."
—Neal D. Barnard, MD

"The duo offers practical lifestyle tips, backed by science, to help you get the protein your body needs... [T]he authors debunk common myths about protein and help readers plan to kick-start a clean protein lifestyle."
—Taste for Life Magazine