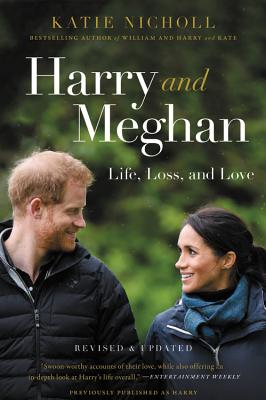 Harry and Meghan (Paperback)
Life, Loss, and Love
Hachette Books, 9781602865280, 304pp.
Publication Date: April 9, 2019
Other Editions of This Title:
Digital Audiobook (3/19/2018)
Hardcover (3/20/2018)
CD-Audio (3/27/2018)
Compact Disc (3/20/2018)
* Individual store prices may vary.
Description
From royal expert Katie Nicholl, author of the bestselling William and Harry and Kate comes the most intimate and informative portrait yet of Prince Harry, his marriage to Meghan Markle, and how their union is modernizing the Royal Family.


From his earliest public appearances as a mischievous redheaded toddler, Prince Harry has captured the hearts of royal enthusiasts around the world, while his marriage to Meghan Markle has only endeared him further. In
Harry and Meghan
, Britain's leading expert on the young royals offers an in-depth look at the wayward prince turned national treasure. Nicholl sheds new light on growing up royal, Harry's relationship with his mother, his troubled youth and early adulthood, and how his military service in Afghanistan inspired him to create his legacy, the Invictus Games. She uncovers new information about Harry's past relationships and reveals the true story of his romance with Meghan Markle, the smart and spirited American who captured his heart.
Harry and Meghan: Life, Loss, and Love
features interviews with friends, those who have worked with the prince, and former Palace aides. Nicholl reveals behind-the-scenes details about the run up to the couple's spectacular wedding day, their first tours as a married couple, and their preparations for the arrival of the youngest new royal.
Harry and Meghan is a compelling portrait of the Royal Family's most popular royal couple and the story of the most gripping royal romance in a decade.
Previously published as Harry: Life, Loss, and Love.
About the Author
Katie Nicholl is a journalist, broadcaster, and contributor to Vanity Fair and the Mail on Sunday. Katie works with the BBC and Sky News in the UK, CBC in Canada, and Channel 9 in Australia. She also works extensively in America where she appears regularly on primetime TV shows including Entertainment Tonight. Also the author of New York Times bestselling royal biographies William and Harry, The Making of a Royal Romance, and Kate: The Future Queen, Katie is a widely recognized authority on royal affairs.
Praise For Harry and Meghan: Life, Loss, and Love…
"Nicholl's Harry: Life, Loss, and Love reveals... intimate glimpses into the already highly scrutinized lives of Meghan and Harry."—Slate.com

"Romance lovers will be happy."—USA Today

"Through interviews with friends, acquaintances, and confidants, best-selling author and Vanity Fair royals correspondent Katie Nicholl delivers a deep dive into the life of Kensington's most improved prince."—Vanity Fair

"The new Prince Harry book is hot...a must-read material for royal fans.
—The Globe and Mail

"Katie has become the go-to source on all things royal."—KTLA.com

"Katie Nicholl has defined herself as an authority on the young royals.... The book turns to numerous inside sources for swoon-worthy accounts of their love, while also offering an in-depth look at Harry's life overall."
—Entertainment Weekly

"It's guaranteed that this tome will be . . . [eye-opening,] as Nicholl is deeply embedded in the royal scene."—The New York Observer

"Royal reporter Katie Nicholl's well-researched new book Harry: Life, Loss and Love, takes a deep dive into the popular prince's story . . .[and] sheds light on Harry's private life, away from the spotlight, with his mother, brother and family-and now his future bride."
—Maclean's (Canada)

"Perfect for those who are fans of the royal family.... A Hollywood biography of a young leading man... for whom something momentous is happening."—San Francisco Book Review

"We didn't think we could be any more obsessed with Prince Harry then we already were, but author Katie Nicholl just proved us all wrong. The royal expert just released her new biography on the ginger prince, Harry: Life, Loss, and Love-and quite frankly, it's legendary."—Cheatsheet.com

"Intriguing."—Marketwatch.com

"[A] crown jewel of a book."
—Bella Magazine

Praise for Katie Nicholl's William and Harry:


"If you want to know what really happens behind those closed palace doors, then this is the book for you."—Piers Morgan

"Using her unrivalled sources [Katie Nicholl] has written the most revealing book ever about Princes William and Harry... the most vivid and engaging study yet of our future King."
—Mail on Sunday

"An entertaining, richly-photographed book... Nicholl retraces the well-known story of the boys' triumphs and travails... Chattily and fondly, Nicholl chronicles the boys' lives, and gives Kate ample and generous treatment."
—The New York Times

"Nicholl delves into the secret lives of William and Harry... [and] uncovers what makes the two young Windsors tick."
—USA Today

"Katie Nicholl has written [an] entertaining biography ... Harry and
Meghan dishes on the lives of these rich, pretty, and seemingly good
people in the most gentle, cheerful way."—Deseret News