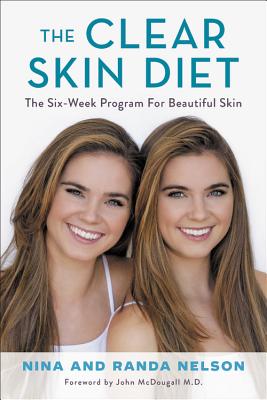 The Clear Skin Diet (Hardcover)
The Six-Week Program for Beautiful Skin: Foreword by John McDougall MD
Hachette Books, 9781602865655, 288pp.
Publication Date: April 10, 2018
Other Editions of This Title:
Digital Audiobook (4/9/2018)
* Individual store prices may vary.
Description
"A serious and important contribution to the whole food, plant-based world. . . Not infrequently I get asked about this diet for skin conditions-now I have a great reference to pass on to people."- T. Colin Campbell, co-author of The China Study

From YouTube stars Nina and Randa Nelson comes the doctor-approved, clinically-tested, low-fat vegan diet that instantly and dramatically transformed their skin.

Over $3 billion dollars is spent treating acne every year. But YouTube celebrities Nina and Randa Nelson have found a solution that is easy, affordable, and as close as your local grocery store.

Based on solid nutritional science, vetted by top nutrition experts, and proven by the authors' experiences and now so many others, The Clear Skin Diet will help you clear your skin for good. This is it: a six-week plan to take control of skin issues using the simple principles of a low-fat vegan diet, foods such as potatoes, pasta, rice, corn, beans, oatmeal and whole grains. Complete with detailed grocery lists, simple meal prep strategies, and delicious recipes using affordable, familiar ingredients, The Clear Skin Diet is an accessible guide to curing acne that will give readers, whether 13 or 43 years old, the confidence to start living life again.
About the Author
Natives of Los Angeles and life-long vegans Nina and Randa were raised in the San Fernando Valley and attended Sierra Canyon School and Chaminade Prep School. They paused their college career at California State University at Northridge by taking a year off to pursue work in acting and social media. They've been busy building a successful social media presence and acting careers since.
Praise For The Clear Skin Diet: The Six-Week Program for Beautiful Skin: Foreword by John McDougall MD…
"A serious and important contribution to the whole food, plant-based world. . . Not infrequently I get asked about this diet for skin conditions-now I have a great reference to pass on to people."
—T. Colin Campbell, co-author of The China Study

"I've known Nina and Randa Nelson almost all their lives, and they recently cracked the code for curing acne with diet. These two young ladies are ideal representatives to take this important information to a desperate public."

—John McDougall, M.D., bestselling author of The Healthiest Diet on the Planet

"Acne is a devastating and unnecessary epidemic for many people in Western cultures. Nina and Randa Nelson, two incredibly sweet, savvy, and talented sisters, have a tremendous amount to offer millions tormented by this affliction. I'm grateful they created this wonderful resource I can share with my clients and audiences."

—Julieanna Hever MS, RD, CPT, author of The Vegiterranean Diet and The Complete Idiot's Guide to Plant-Based Nutrition

"As both doctors and parents of young children, we are thrilled that Nina and Randa are really poised to be able to save teens from the ravages of acne, through their dietary choices."

—Alona Pulde, MD and Matthew Lederman, MD, bestselling authors Forks Over Knives book series

"I met Nina & Randa Nelson when they were 12 years old, and I can say these girls know more about defeating acne than people three times their age! They're energetic, fun, inspirational, and amazing experts. I am looking forward to the huge positive impact they are going to have on the many people who suffer from this debilitating condition."

—Rip Esselstyn, author The Engine 2 Diet

"These lifelong vegan twins are two of the most glowing examples of health I know. And Nina and Randa are uniquely positioned to give young teens an effective alternative to the pharmacological acne solutions that often don't work."

—John Robbins, bestselling author of The Food Revolution

"Damage from acne is not just physical but psychological, too. Nina and Randa Nelson are successfully teaching others how to overcome the physical and emotional challenges. These girls are true leaders."

—Neal Barnard M.D., bestselling author Dr. Barnard's Program for Reversing Diabetes, President Physicians Committee for Responsible Medicine

"The legendary transformation that Nina and Randa Nelson have made for themselves they are now sharing with the millions who have, up to now, felt powerless to obtain optimal skin health. Their vibrant story is a gift for those who can now feel empowered to achieve similar glowing results."

—Caldwell J. Esselstyn Jr, M.D., author Prevent & Reverse Heart Disease

"This book is going to change the world."
—Jane Velez-Mitchell, journalist and television commentator