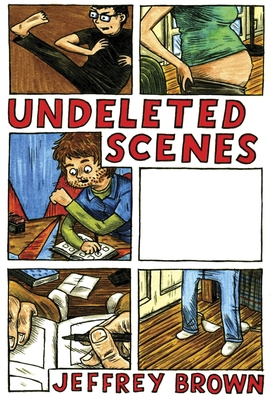 Undeleted Scenes (Paperback)
Top Shelf Productions, 9781603090582, 352pp.
Publication Date: June 8, 2010
* Individual store prices may vary.
Description
Presenting a decade's worth of shorter works from an indie comics legend. A small yet weighty compendium, this book contains stories from the previous collections Minisulk, Every Girl Is the End of the World for Me, and Feeble Attempts, as well as Jeffrey's work from anthologies such as Kramers Ergot and McSweeney's, plus rare material from minicomics and elsewhere, including dozens of pages of never-before-seen material. Spanning humor, autobiography, and beyond, some of Jeffrey's most beloved comics are in here – including the fan-favorite self-parody collection Be A Man!
About the Author
Jeffrey Brown is the best selling author and illustrator of the middle grade Jedi Academy series, as well as the Darth Vader and Son series. When he was a kid, Jeffrey always dreamed of growing up to draw comics and make books for a living—and now he's living that dream! Jeffrey has written a number of autobiographical books for adults (Clumsy, Unlikely, and A Matter of Life, among others, all from Top Shelf Productions), humorous graphic novels about cats (Cat Getting Out of a Bag, Cats Are Weird, from Chronicle Books), and parodies like Incredible Change-Bots (and its two sequels, all also from Top Shelf).

His most recent project has been 40,000 years in the making: Lucy & Andy Neanderthal! Lucy and Andy are a brother and sister living in the stone age, where they struggle to survive mammoths, cave bears, and their own sibling rivalry. Lucy & Andy Book Two: The Stone Cold Age is available now.