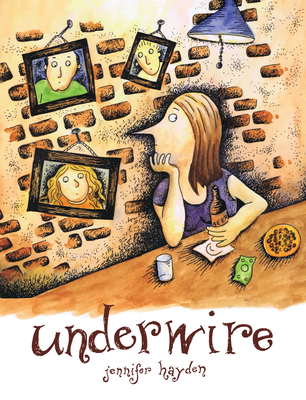 Underwire
Paperback

* Individual store prices may vary.
Description
Underwire collects the wise and witty autobiographical comics of an eloquent new voice on the comics scene: Jennifer Hayden, politically incorrect mother of two. These everyday observations about marriage, motherhood, and modern life are so perfectly captured, you''ll start to feel like a member of the family yourself!
Here''s the wisdom that comes with wearing an underwire — and you don''t have to own a bra to enjoy it! These stories are about the little things that give us the big picture. Jennifer Hayden started writing and drawing Underwire as a webcomic at www.ACT-I-VATE.com. Since then, it has gained critical attention as a fresh indie comic about womanhood, parenthood, and being-in-the-middle-of-life-hood. Here are twenty-two of the original stories, plus seventeen new pages of comix and art created exclusively for this collection.
Top Shelf Productions, 9781603090766, 80pp.
Publication Date: October 11, 2011
About the Author
Jennifer Hayden came to comics from fiction writing and children's book illustration. Her most recent book, The Story of My Tits (Top Shelf, 2015), is a 352-page graphic memoir and breast cancer narrative. Her previous book, the autobiographical collection Underwire (Top Shelf, 2011), was excerpted in The Best American Comics 2013 and named one of "the best comics by women" by DoubleX. She is a member of Activate (the premier webcomics collective in New York City), where she posts her webcomic S'crapbook, which earned a Notable listing in The Best American Comics 2012. Jennifer currently posts the daily diary strip Rushes at thegoddessrushes.blogspot.com. Her comics have appeared in print anthologies such as The Activate Primer, Cousin Corrine's Reminder, and The Strumpet. 

After hours, Jennifer plays electric fiddle with The Rocky Hill Ramblers and The Spring Hill Band. She lives in Central New Jersey with her husband, their two college-age children, two cats, and the dog. 

You can read her blog at goddesscomix.blogspot.com.
or
Not Currently Available for Direct Purchase