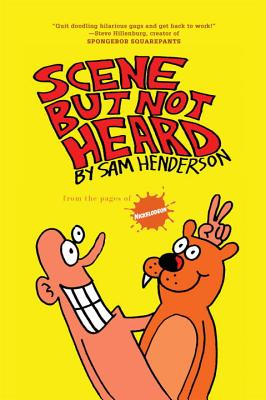 Scene But Not Heard (Hardcover)
Top Shelf Productions, 9781603090896, 128pp.
Publication Date: December 3, 2013
Other Editions of This Title:
Hardcover (12/3/2013)
* Individual store prices may vary.
Description
From the pages of Nickelodeon Magazine comes the beloved wordless comedy of Sam Henderson's Scene But Not Heard comic strip, all collected in one handsome volume! Just try to keep up with his wild (and wildly funny) imagination.
Co-published by Top Shelf Productions and Alternative Comics.
"Quite doodling hilarious gags and get back to work!" — Steve Hillenburg, creator of SpongeBob SquarePants
"Sam Henderson is the single greatest comedic force in America. Except for me. And guys who wipe their mouths on their sleeves." — Mark Newgarden, co-creator ofGarbage Pail Kids and author of Bow-Wow Bugs a Bug
"If you can read [Sam Henderson] without laughing, you are not human." — James Sturm, director of the Center for Cartoon Studies
"He's the master of meta-humor, absurdity, repetition, and most especially the sublime comedic escalation of the dumbest ideas." — The Comics Journal
Sam Henderson: Ignatz-nominated creator of Magic Whistle, Emmy-nominated writer and storyboard artist for SpongeBob SquarePants... and also the nutty mind behind "Scene But Not Heard," the longest-running feature in the history of Nickelodeon Magazine! Now all those strips -- the hilarious, wordless adventures of a man and a bear -- are collected all in one handsome hardcover. Just try and keep up with Sam's wild imagination!
or
Not Currently Available for Direct Purchase