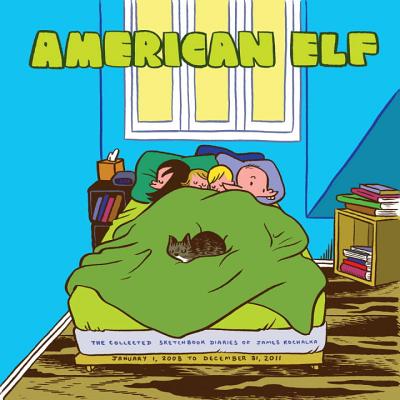 American Elf Book 4
The Collected Sketchbook Diaries of James Kochalka: January 1 2008 - December 31 2011
Paperback

* Individual store prices may vary.
Description
It's the long-awaited return of James Kochalka's massively influential and deceptively ambitious autobiography, American Elf. Every day of his life is captured in a single comic strip, sometimes profound and sometimes silly, but always full of the earnest Kochalka passion that led Hi-Fructose to call him "an unrelenting force, sure to solve the oncoming energy crisis," and earned him the title of Cartoonist Laureate of Vermont. And it's only gotten better over time!
In this collection, spanning the years 2008-2011, James becomes Cartoonist Laureate, celebrates American Elf's 10th year, pitches a TV show to Hollywood, releases a GameBoy album, travels to France, creates his own video game, considers quitting the strip, plays everything from Lego Star Wars to Skyrim, digs deeper into his psyche, and kind of causes himself to have a nervous breakdown. Meanwhile, Eli starts elementary school — and a band, Oliver learns to walk and talk (and sing), James & Amy celebrate 15 years of marriage, and the family adopts a new cat, Nooko!
Top Shelf Productions, 9781603092654, 384pp.
Publication Date: July 31, 2012
About the Author
JAMES KOCHALKA is, without question, one of the most unique and prolific alternative cartoonists working in America today. His comics have been published internationally by almost every alternative comics publisher; he's recorded several music albums under the name James Kochalka Superstar (making him a favorite at college radio stations across the country); and he's developed animated cartoons for Nickelodeon and Cartoon Hangover.

He is the first official Cartoonist Laureate of the state of Vermont, appointed in 2011.

Among his best known works are the Monkey vs Robot series, the superpowered frathouse comedy SuperF*ckers, the beloved children's series Johnny Boo, Dragon Puncher, and Glorkian Warrior, and his magnum opus, the 14-year span of daily diary comics known as American Elf.
or
Not Currently Available for Direct Purchase