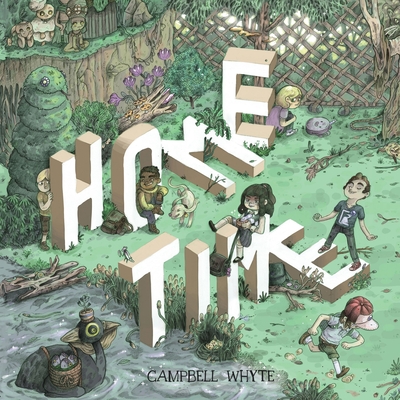 Home Time (Book One)
Under the River
Hardcover

* Individual store prices may vary.
Description
A rising star of Australian comics makes his spectacular, award-winning debut: a jaw-dropping coming-of-age graphic novel inspired by classic fantasy games & stories, each chapter drawn in a different style.

The last school bell has rung and it's finally HOME TIME! Even though they're twins, Lilly and David don't agree on much… except that the last summer before high school is the perfect time for relaxing with friends. But their plans for sleepovers, fantasy games, and romance are thrown out the window when the whole gang falls into a river and wakes up in a village of fantastic creatures. Hailed as magical spirits and attacked by lizards, these kids must find their way home — if they don't throttle each other first. Australian cartoonist Campbell Whyte combines the rich imagination of Dungeons & Dragons with puckishly charming characters and a touch of video-game geometry in his spectacular first graphic novel.


2018 Excellence in Graphic Literature Award Winner for Best young-Adult Book
2018 Pubwest Design Gold Award Winner - Children's/Young Adult Book, Illustrated
2018 Dinky Award Winner

2018 Eisner Award Finalist for Best Publication for Kids (9-12)
2018 Ringo Award Finalist for Best Kids Comic or Graphic Novel
2018 Russ Manning Most Promising Newcomer Award Finalist - Cambell Whyte
2018 National Cartoonist Society Best Graphic Novel Award Finalist
Shortlisted for the 2018 Readings Childrens Book Prize
Shortlisted for the 2018 Ledger Award for Excellence in Comics and Graphic Novels
Praise For Home Time (Book One): Under the River…
Winner of the Excellence in Graphic Literature Award, PubWest Design Award, and DINKy Award!
Finalist for the Eisner Award, Russ Manning Award, National Cartoonist Society Graphic Novel Award, Readings Children's Book Prize, Aurealis Award, and Ledger Award.

"Beautifully realised, funny, smart, weird and surprisingly epic in scope, Home Time is also just plain brilliant." — Shaun Tan

"Campbell Whyte's debut graphic novel is cute, funny, scary, exciting, and cleverly constructed. The drawings are always a pleasure, each new art style blending seamlessly into the whole. I'm looking forward to the thrilling conclusion!" — Bryan Lee O'Malley

"Exuberant... It's a richly imagined world, and Whyte immerses readers in it." — The New York Times

"[A] remarkably assured debut graphic novel... Illustrated in a variety of styles to capture the distinct voice of each protagonist, Home Time delves deep." — Comic Book Resources

"A highly original graphic novel adventure... it goes from curious to interesting to compelling to engrossing — the momentum keeps building to the point where we're on pins and needles." — Under the Radar

"[A] thoroughly entertaining and inherently compelling coming-of-age graphic novel... very highly recommended." — Midwest Book Review

"Whyte's world-building is as impressive as his ambitious story and his mastery of the half-dozen styles he wears... Built on a foundation of kids' fantasy classics, but with the specifics of its world unique and the psychological drama wild and unpredictable as the pre-teen mind, Home Time feels both comfortably familiar and refreshingly new and unusual at the same time." — School Library Journal's Good Comics for Kids

"Home Time: Under the River may end up being the best or be on the shortlist of best graphic novels for any age this year...There is more imagination in Whyte's story than you will find in an entire year of most of Marvel and DC Comics's superhero comic book titles." — Leroy Douresseaux, Comic Book Bin

Home Time
Campbell Whyte. Top Shelf, $24.99 (228p) ISBN 978-1-60309-412-2
On the last day of primary school, an eclectic and somewhat combative group of friends plans to celebrate with an epic two-night sleepover. Things go awry when they fall into a river and are transported to the Forest of the Peaches, where they are met by humanoid creatures who believe the children are gods who have come to save them from the Lizard Empire. As months pass in this strange world, some of the children become more acclimated than others, resulting in increased tension in the group. Visually, the story invokes the surrealism of Carroll's Wonderland with exotic flora, fauna, and curiosities around every corner, and there are echoes of Lewis's Narnia in the plot's focus on children-saviors in an alternate world. Australian comics creator Whyte shifts artistic style with each chapter, moving from pencil sketches to bright, borderline psychedelic cartoons and even a chapter with a pixelated motif à la vintage arcade games. It's both alienating and engaging, keeping readers as off-balance as the children, who are trapped in an alien landscape they don't quite understand. Ages 13–up. -Publishers Weekly
Top Shelf Productions, 9781603094122, 228pp.
Publication Date: August 22, 2017
About the Author
Campbell Whyte was born in Perth, Western Australia, wedged between a restless ocean and an endless desert. He began making things not long after his birth, and today that rich tradition continues. When not making comics, Campbell runs the children's art school Milktooth with his wife, son, and hairless dog.