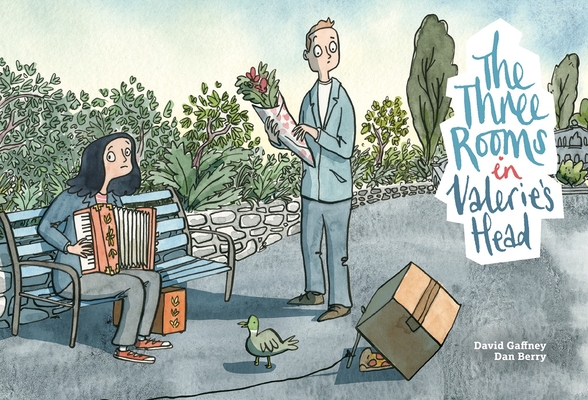 The Three Rooms in Valerie's Head (Paperback)
Top Shelf Productions, 9781603094153, 120pp.
Publication Date: February 27, 2018
* Individual store prices may vary.
Description
British comedy blended with universal regret, this darkly funny graphic novel, using surreal yet beautiful visions, explores the ways we remain haunted by our ex-lovers.

Valerie has a rich interior life. Serially unlucky in love, to feel better she imagines that her previous boyfriends are dead and that their bodies are kept downstairs in the cellar in a strange, mummified state. Every day she brings them upstairs and speaks with them about what went wrong.

What follows is a series of peculiar and funny, and sometimes disturbing short tales about inept lovers, weird obsessions, and socially malfunctioning men who repeatedly fail to build a relationship with poor Valerie.

Apart from Stanley. Stanley was special.

Could he be the one to save her?

The Three Rooms in Valerie's Head is a dark comedy about relationships, memory, loneliness and obsession and is the first collaboration between ultra-short fiction writer David Gaffney and comic artist Dan Berry.



"Funny, poignant, surreal and still warmly emotional and human, a delight to read." - Forbidden Planet International Blog

"It's a wonderfully offbeat, dark comedic delight." - Comicon.com
About the Author
David Gaffney comes from Cleator Moor in West Cumbria and now lives in Manchester. He is the author of Sawn-off Tales (2006), Aromabingo (2007), Never Never (2008), The Half-life of Songs (2010) and his latest collection of short stories, More Sawn-Off Tales ( 2013). He has written articles for the Guardian, Sunday Times, Financial Times and Prospect magazine and was a judge for the 2015 Bridport prize. His story "The Staring Man" is featured in the 2016 collection Best British Short Stories, his new novel, All The Places I've Ever Lived, is out in February 2017 on Urbane, and his graphic novel with Dan Berry, The Three Rooms In Valerie's Head, is out in March 2017 on Top Shelf.

Dan Berry is an illustrator, designer, cartoonist and lecturer based in the town of Shrewsbury, UK. He is the Programme Leader for the BA/MDES Illustration, Graphic Novels and Children's Publishing degree courses at the School of Creative Arts, Wrexham Glyndwr University. Since 2012 he has produced the podcast Make It Then Tell Everybody in which he has spoken to over a hundred other artists about what they do and how they do it. He also records a comedy podcast with Hannah Berry (no relation) entitled No YOU Hang Up. He has produced illustration work for The NME, Michael Rosen, The National Union of Teachers, and more.