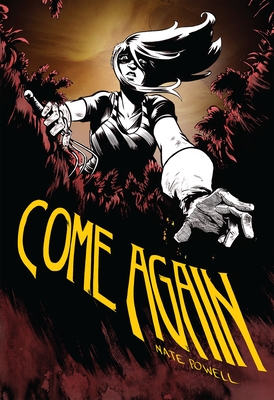 Come Again
Hardcover

* Individual store prices may vary.
Description
A lover's dream becomes a parent's nightmare in the astonishing new graphic novel from Nate Powell, National Book Award-winning artist of the March trilogy.

As the sun sets on the 1970s, the spirit of the Love Generation still lingers in one "intentional community" high in the Ozarks. But what's missing?

Under impossibly close scrutiny, two families wrestle with long-repressed secrets... while deep within those Arkansas hills, something monstrous stirs, ready to feast on village whispers.

With his first solo graphic novel in seven years, #1 New York Times bestseller Nate Powell presents a haunting tale of intimacy, guilt, and collective amnesia.
Praise For Come Again…
Nominated for two Eisner Awards!
One of Publishers Weekly's Top 10 Graphic Novels for Spring 2018!

"Rendered in fluid, magical brushwork tinted in the colors of a sunrise and filled with mysterious shadows and crannies... this enchanting solo effort reveals even greater depths to Powell's gift for visual storytelling and creating appealing, human characters." — Publishers Weekly (starred review)

"With his work on Swallow Me Whole and March, Nate Powell established himself as one of the premier talents in comics, but Come Again is his finest work yet. Profoundly moving, intimate, and haunting, this book will resonate with you for a long long time." — Jeff Lemire

"Powell's work lives, literally and figuratively, in the intersection between light and dark. Just when you think you'll be engulfed completely in the shadows, the sun floods in." — Jillian Tamaki

"Spooky and off-kilter, Come Again shows Nate Powell's virtuosity... it's a delight to accompany such a fertile imagination." — NPR (Best of 2018)

"Rich with mystery, magic, and a depth of understanding about human relationships—and the color and line work is just gorgeous." — Publishers Weekly Critics Poll (Best of 2018)

"Even the word balloons can give you chills in Come Again. In fact, they do so with startling regularity, looping and crashing across negative space, bearing letters that slip in and out of consciousness as the story unfurls. Nate Powell... presents his first solo masterwork." — Vulture (Best of the Month)

"Powell succeeds in elevating the elements of a folk tale (and a tale about folks) into a haunting piece of literature. In Come Again he displays a cinematographer's deft touch in framing, and leverages color to move us through time and other, more subtle changes... It's moving, it's startling, and it's very much of its time and place." — Arkansas Times

"Powell's work is never less than visually ravishing." — Paste

"An unusual graphic novel that takes the medium to new, interesting, meditative places... intriguing, confident, and adept." — Manhattan Book Review
Top Shelf Productions, 9781603094283, 272pp.
Publication Date: August 7, 2018
About the Author
Nate Powell is a New York Times best-selling graphic novelist born in Little Rock, Arkansas in 1978. He began self-publishing at age 14, and graduated from School of Visual Arts in 2000. His work includes MARCH, You Don't Say, Any Empire, Swallow Me Whole, The Silence Of Our Friends, The Year Of The Beasts, and Rick Riordan's The Lost Hero. Powell is the first and only cartoonist ever to win the National Book Award. Powell has discussed his work at the United Nations, as well as on MSNBC's The Rachel Maddow Show and CNN.